ORBT to launch mid-November with promotional free fares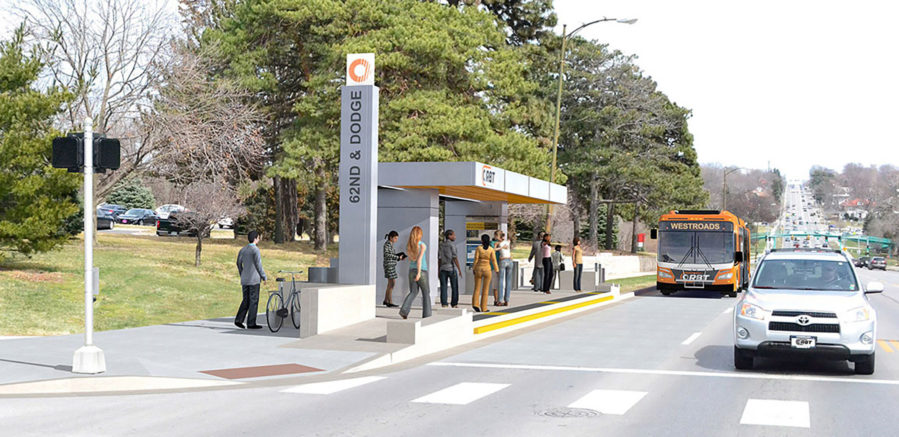 October 8, 2020
Metro officials announced today that the agency's first rapid transit line, ORBT, will begin operating on Wednesday, November 18th.
"We want to thank all of the community leaders, stakeholders, organizations, neighborhoods, partners, institutions, and thousands of community members who have helped make this project a reality," said Jay Lund, Chair of Metro's Board of Directors. "The launch of ORBT marks the beginning of a new era for transit in Omaha."
Metro will also be offering a fare-free introductory period for ORBT until mid-March.
"We are so excited to launch ORBT this fall and be able to provide our riders with a chance to try the system for free for four months," said Metro's CEO, Lauren Cencic. "As we prepare to integrate ORBT into our bus network, we will be providing opportunities to help current and new riders feel comfortable using the system."
ORBT introduces a new transit experience for many in Omaha, including enhanced stations with raised platforms, spacious vehicles with onboard bike racks, bus lanes downtown, and more.
In the weeks before launch, Metro will be offering socially distanced public training, instructional videos, rider guides, and more. ORBT buses may also be spotted on Dodge and Douglas as operator training moves from the Metro office to the ORBT route.
For the first days of service, ORBT Ambassadors will be at many of the Stations and Stops along the route to answer questions and help guide passengers as they ride ORBT.
The last Route 2 bus will return to the garage on November 17th. Replacing Route 2 with ORBT will allow Metro to run more frequent service on Dodge, increasing daily round trips from 65 to 100 per weekday. These additional trips will give riders a new level of reliability and flexibility in their travel. Notifications will be installed at bus stops in the weeks before opening day, and all bus stops signs will be removed when ORBT begins service.