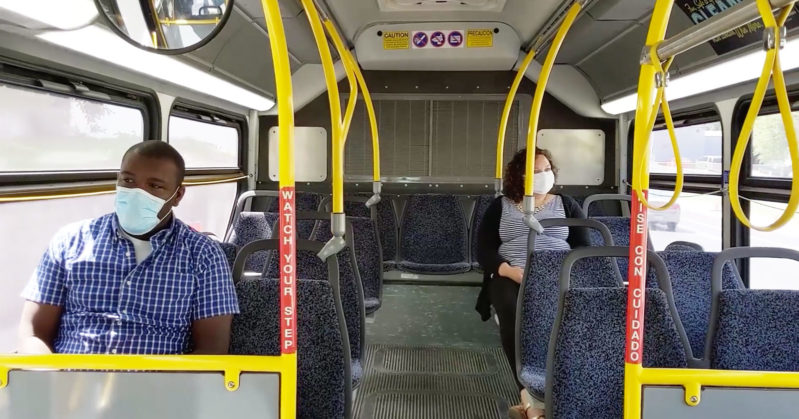 Metro continues to take measures to limit the spread of COVID-19.
Like partner transit agencies nationwide, Metro is closely monitoring the spread of COVID-19 and working with local health officials to ensure the health and safety of employees and riders.
updated 4/13/21
FACE COVERINGS
Face coverings must be worn to ride Metro buses and MOBY paratransit vans and to access Metro facilities, including transit centers, ORBT Stations, bus shelters, and Metro's office. Face coverings must cover both the face and nose of the wearer.
On January 29, 2021, the Centers for Disease Control and Prevention (CDC) issued an Order requiring mass transportation riders to wear masks to prevent the spread of COVID-19.  Riders not adhering to the CDC Order will be denied access to Metro buses, paratransit vans, and/or facilities, including bus shelters, ORBT stations, and transit centers.  The CDC Order exempts the following categories of persons: children under the age of two (2) years of age; and persons with a disability who cannot wear a mask, or cannot safely wear a mask, because of a disability as defined by the Americans with Disabilities Act (42 U.S.C. § 12101 et seq.).
face covering exemptions
Effective Saturday, May 1, 2021, persons with a disability who cannot wear a mask, or cannot safely wear a mask, because of the disability as defined by the Americans with Disabilities Act (42 U.S.C. U.S.C. § 12101 et seq.) are required to present a valid Reasonable Modification from Mask (RM) card to board and ride any Metro bus or MOBY paratransit van.
To apply for an RM card, persons with a disability requiring a medical exemption from the Order must complete and submit the following forms:
The forms can be downloaded at the links above, mailed to you by request by calling Customer Service at 402-341-0800 or obtained at Metro Transit headquarters. Completed forms can be submitted to Metro via:
Email

: covid@ometro.com

Fax

: 1-402-939-6814

Mail

: Metro Transit, Attn: Mask Exception, 2222 Cuming Street, Omaha, NE 68102
Metro will review your application, and upon validation, notify you to obtain your personalized photographed RM card at the Metro office between 8:30 a.m. and 4:00 p.m., Monday through Friday. Please bring a valid government-issued identification card. There is no charge for RM cards.
SERVICE IMPACTS
COVID-19 has presented an array of challenges for our community, including impacts on the hardworking and dedicated Metro teams that keep buses and paratransit vans running every day.
While we are doing everything we can to provide reliable and consistent transit services, COVID-19 may cause staffing challenges that result in temporary delays or changes in service times.
We will do everything we can to provide updates with any changes to service. Riders can track their buses with MyRide OMA and create accounts to receive notifications about bus stops or routes.
Customer Service is available at (402)341-0800, Monday through Friday from 6 a.m. to 7 p.m., Saturday from 7:30 a.m. to 7 p.m., and Sunday from 7:30 a.m. to 6 p.m.
Thank you for your understanding as our staff and community work through this monumental effort, and thank you for riding Metro.
eXECUTIVE & CDC ORDERS:
ADDITIONAL MEASURES include:
Adding an anti-microbial coating during Metro's ongoing bus seat cleaning process

Using an electrostatic sprayer on all buses and paratransit vehicles every evening, which disperses a CDC-approved disinfectant across all interior surfaces

Trading out buses mid-day on the busiest routes for extra cleaning due to high ridership

Installing safety shields around driver seats to reduce contact between drivers and riders; Metro staff are required to wear face coverings while operating a Metro vehicle or at a Metro facility

Continuing a rigorous daily cleaning schedule with an increased concentration of disinfectant
If riders have concerns about particular buses, they are urged to notify a Metro employee, contact Metro's customer service at (402)341-0800, or submit a comment through Metro's online form.
MORE INFO
If you have questions or concerns about COVID-19, please contact local health authorities. For more information, please visit the following websites:
TIPS FOR RIDERS
Metro encourages riders, staff, and the public to follow the guidance of health officials. Nebraska Medicine has issued the following recommendations regarding prevention:
Wear a mask or face covering over your mouth and nose.
Wash your hands often with soap and warm water for at least 20 seconds, using hand sanitizer as a second option.
Don't touch your mouth, nose or eyes, especially with unwashed hands.
Avoid contact with people who are sick.
If you are sick, stay at home.
Cover your mouth and nose with a tissue or sleeve when coughing or sneezing. Don't cough or sneeze into your hands.
Frequently clean and disinfect frequently touched objects in your home, car and workplace.
cLEANING MATERIALS
Metro understands that the use of some disinfectants may impact riders with chemical sensitivities. To help riders plan their travel and understand what to expect on board, the disinfectant that Metro currently uses is listed here:
Betco pH7Q, a one-step disinfectant, germicidal detergent, and deodorizer, containing didecyl dimethyl ammonium chloride, n-Alkyl (C14 50%, C12 40%, C16 10%) demethyl benzyl ammonium chloride, and other inert ingredients