Meet ORBT
Metro launched Omaha Rapid Bus Transit (ORBT) service on Nov. 18, 2020 — the most significant mass transit investment this region has seen in decades.
ORBT unites smart technology and streamlined travel for faster, more frequent public transportation, serving an eight-mile route along Dodge and Douglas streets from downtown Omaha to Westroads Mall. ORBT's enhanced stations, spacious vehicles, and travel upgrades connect more people, more frequently.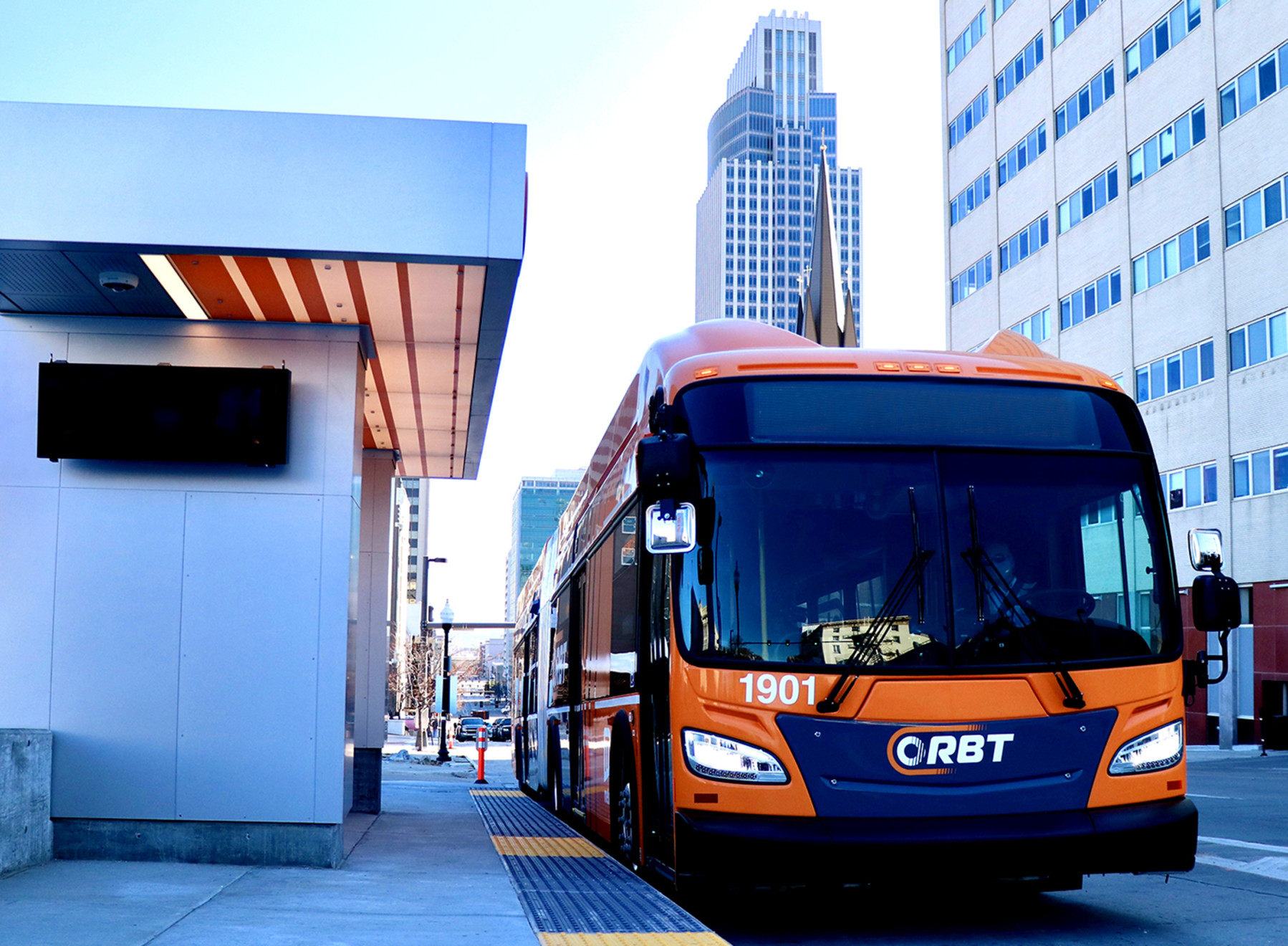 Smart Technology
ORBT is built for reliability, so you can travel between Westroads and downtown fast and hassle-free.
ORBT stations and vehicles include auditory bus stop announcements, visual cues for stop locations, and real-time arrival updates, making our system more accessible and convenient for everyone. 

Riders purchase tickets at a station kiosk in advance, speeding up the boarding process.

Wi-Fi at every ORBT station and inside every vehicle keeps you connected while you travel.
Streamlined Travel
ORBT is designed with accessibility in mind to best serve our vibrant and diverse community.
East of 30th Street,

bus-only lanes

give ORBT dedicated roadways, reducing delay due to vehicle traffic.

New traffic signal technology extends green lights for ORBT buses west of 30th Street, reducing congestion and delay. 

Three-door boarding and raised station platforms enable easier, more accessible boarding — no climbing, no stairs.

Your bike rides for free

— just wheel it into a bike rack on board.
It all adds up to stellar transit.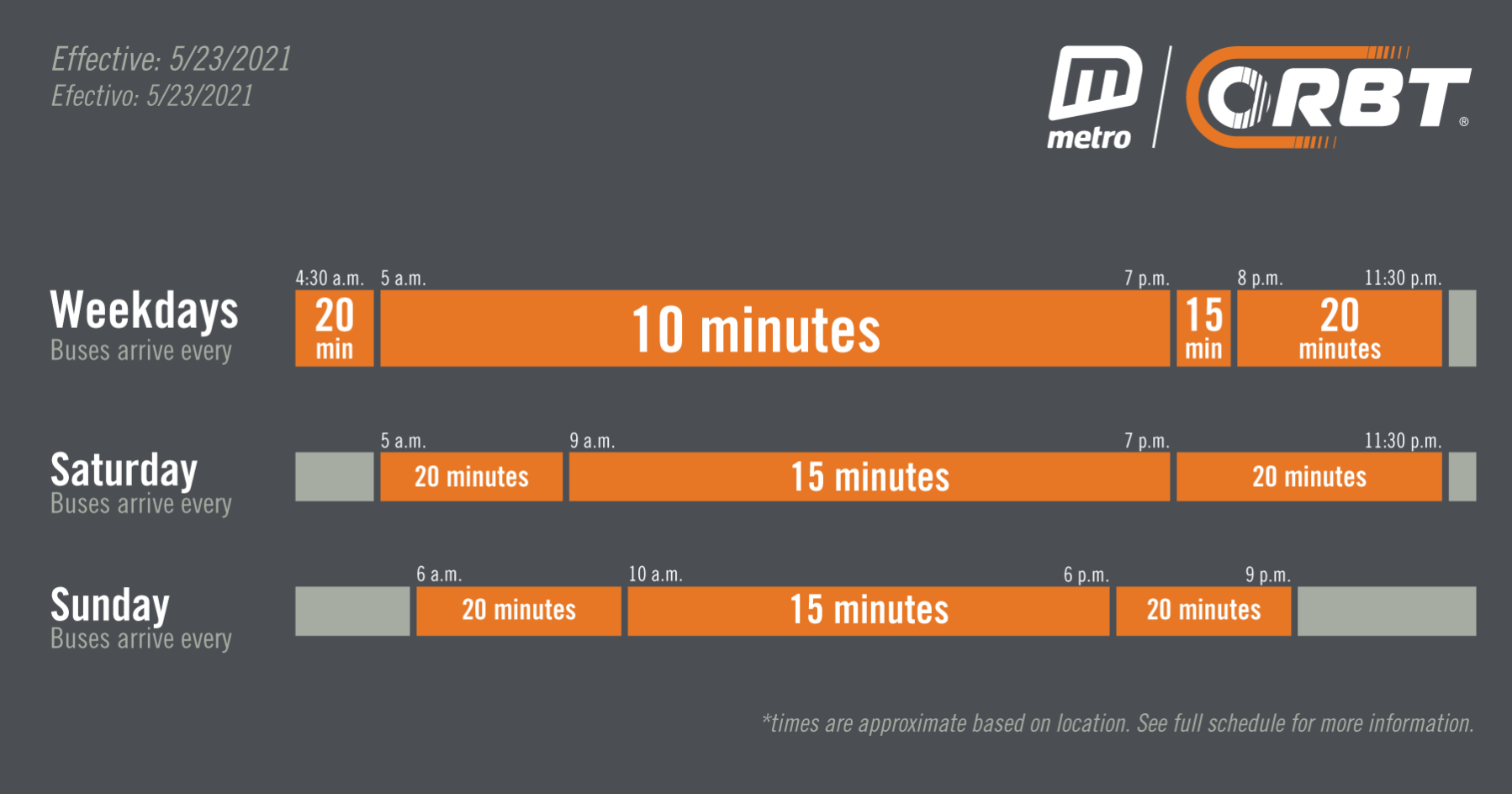 Frequently Asked Questions
What is bus rapid transit?
Bus rapid transit (BRT) provides a premium level of transportation service with articulated buses (that's the accordion in the middle) in higher-density city corridors, often offering many of the same features as rail transit but with greater flexibility and comparatively lower costs. BRT systems have fewer stops, faster service and enhanced reliability compared to local bus service.
How much does it cost to ride ORBT?
What disinfectant does Metro use to clean ORBT buses?
Metro understands that the use of some disinfectants may impact riders with chemical sensitivities. To help riders plan their travel and understand what to expect on board, the disinfectant that Metro currently uses is listed here:
Betco pH7Q, a one-step disinfectant, germicidal detergent, and deodorizer, containing didecyl dimethyl ammonium chloride, n-Alkyl (C14 50%, C12 40%, C16 10%) demethyl benzyl ammonium chloride, and other inert ingredients.
Are face coverings required to ride ORBT?
Masks are recommended when riding Metro buses and MOBY paratransit and to access Metro facilities, including transit centers, ORBT Stations, bus shelters, and Metro's office.
Masks are no longer required on public transportation after a court ruling on April 18, 2022.
Are ORBT buses wheelchair accessible?
ORBT's raised station platforms enable easier, more accessible boarding for wheelchairs, strollers and bicycles. ORBT buses have securements for two wheelchairs and a bridge plate at the middle door for level boarding.
Can I bring my bike on ORBT?
Sure can! Just wheel it into a bike rack on board. See our Bike & Ride guide for more rules and details. 
Can I park my car and ride ORBT?
The Westroads Park & Ride is conveniently located at ORBT's western endpoint, providing commuters with free, dedicated parking spots to connect with ORBT at the Westroads Transit Center.
Why did ORBT replace Route 2 on Dodge Street?
By replacing Route 2 with ORBT, we are able to provide more frequent service — we're aiming for buses to arrive every 10 minutes during the weekday. We're also taking steps to provide more access to riders amidst this change, including extending Route 4 from Westroads to the Regency Shopping Center and adding ORBT Stops at 77th & Dodge to provide a connection to the Keystone Trail.
When implementing major service changes, Metro evaluates impacts to communities through the lens of the Federal Transit Administration's Title VI regulation. With this replacement, 99% of our riders will have their stop change by 4 blocks or less, and 94% by 3 blocks for less. Read our press release about the Route 2 transition for more details. 
Will there be future ORBT routes?
Throughout the outreach and planning process for ORBT, many people expressed interest in future ORBT connections to North and South Omaha, as well as eastern or western extensions to our first line. While we look forward to seeing the ORBT network expand, new funding would be needed for additional lines. As these expansion options are evaluated in the future, public involvement will play a key role in identifying the best path forward.
Do ORBT buses stop in construction zones?
ORBT buses only stop at designated ORBT stations or stops. In general, Metro operators do not pick up or drop off in construction zones for the safety of our riders. If an ORBT station is closed, riders will be directed to an alternate stop by digital and audio displays at stations and can be found on MyRide OMA. As always, you can ask your driver or call Customer Service!
How do I access Wi-Fi on ORBT buses or at ORBT stations?
You can access Metro's free Wi-Fi by finding your ORBT bus or ORBT station in your device's Wi-Fi settings.
On ORBT buses, look for "Metro_Bus#" (ex. "Metro_1901")
At ORBT stations, look for "ORBT Guest"
Accept the terms of service to connect!
What happens at the end of the ORBT line?
At the Westroads and 10th & Douglas ORBT Stations, riders will be asked to exit the bus so automatic passenger counters at the doors can capture accurate ridership tallies. If you wish to continue your trip, you can get right back on!
What happens to bikes left at ORBT stations?
All bikes left at ORBT Stations for more than 72 hours will be removed and stored for 30 days at Metro's administrative office located at 2222 Cuming Street. To claim a bike that has been removed, please call Customer Service at 402-341-0800. Metro is not responsible for lost, stolen, or damaged property.
Does Metro ever use regular buses on the ORBT route?
Metro will occasionally use a regular bus in place of an ORBT bus as they go through maintenance and cleaning. It is our goal to minimize this as much as possible. These buses will operate as an ORBT bus, and all ORBT rules apply, including the current promotional free fare period.