Plan Your Trip
You can plan your trip with ORBT just like any other Metro route! 
Check out our handy bus tracking system, MyRideOMA, or use your preferred map application to plan your trip. You can also contact our Customer Service team for assistance in getting the best directions. Send us your travel plans using our online comment form or call us at 402-341-0800 or 402-341-0807 (TDD). 
Route Map
ORBT serves 23 Stations and four Stops along its 8-mile route from Westroads to downtown.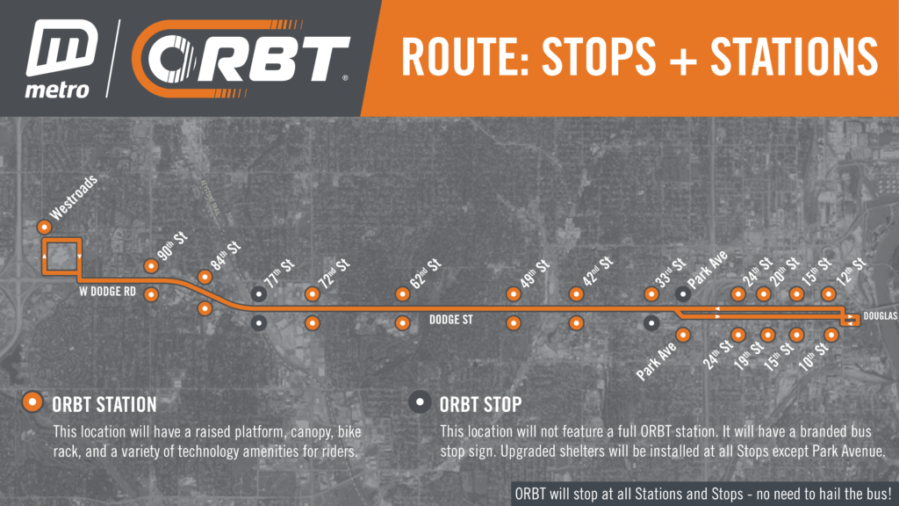 ORBT Stations
Each ORBT Station has a raised platform, canopy, bike rack, and tech upgrades like free WiFi to enhance your ride.
ORBT Stops
Some ORBT Stops will have shelters and bike racks, while others will just have signs — all will provide access to reliable and convenient transit! 
Check out ORBT Stop locations here!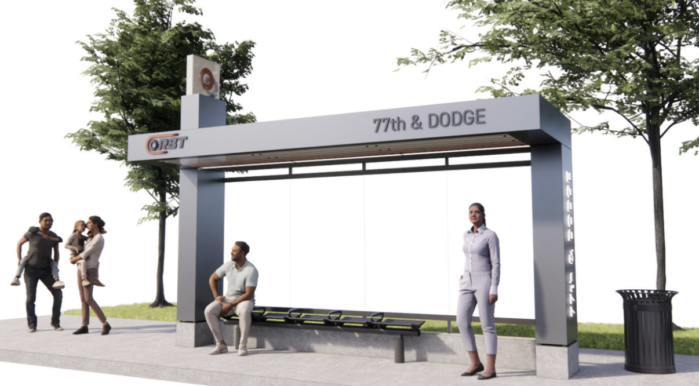 Park & Ride
Park & Ride lots are a great way to save on gas, take the stress out of your commute and reduce your time behind the wheel — without giving up your car entirely. 
The Westroads Park & Ride is conveniently located at ORBT's western endpoint, providing commuters with free, dedicated parking spots to connect with ORBT at the Westroads Transit Center.
Track Your Bus
ORBT buses come frequently, providing service every ten minutes during weekdays! Your next bus is always coming soon.
ORBT Stations feature digital bus tracking displays and audio announcements, so you'll know exactly when the next bus is arriving.
At any moment, you can use MyRide OMA to track where your ORBT bus is — or any bus in the Metro system! 
Boarding and Exiting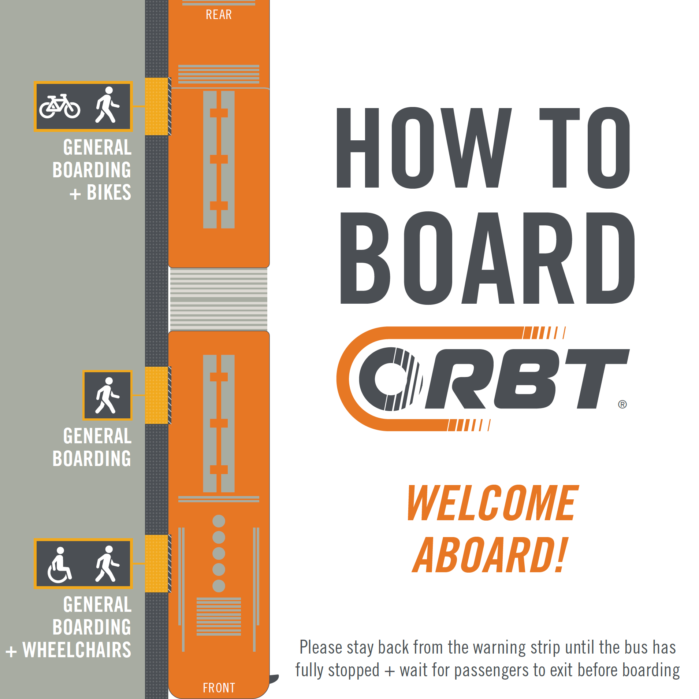 Platforms
ORBT Stations have raised platforms for level boarding — no climbing, no stairs! 
When an ORBT bus approaches, please stay behind the warning strip until the bus comes to a complete stop. Don't worry about hailing the bus — ORBT will stop at every station and stop!
Check the sign on the front of the bus to see if it's heading in the right direction for your trip.
Doors
ORBT buses have three doors. Whether you're boarding from an ORBT Station or a Stop, you can board through any door.
Wheelchair users should board at the front door to use the ramp,
Cyclists should board at the rear door to use the onboard bike racks and exit through the same door.
Payment
Effective Friday, Oct. 1, 2021, you need to pay a fare to board ORBT.
Prices reflect Metro bus fares at $1.25 with 25-cent transfers. ORBT uses Umo — Metro's new contactless, account-based fare payment system — exclusively for fare payment. Scan your Umo smart card, app, or paper token at the Umo reader at any of the ORBT doors, and periodic fare inspectors will check for proof of payment.
Metro's 30-day unlimited ride passes can be used on ORBT, but 10-ride and single ride paper tickets should be used on other routes or exchanged at the Metro office for Umo credit.
Wi-Fi
You can access Metro's free Wi-Fi by finding your ORBT bus or ORBT station in your device's Wi-Fi settings:
On ORBT buses, look for "Metro_Bus#"
At ORBT stations, look for "ORBT Guest"
Exiting
To exit an ORBT bus, there's no need to push a button or pull a cord. ORBT will stop at every station and stop!
Note: at the Westroads and 10th & Douglas ORBT Stations, riders will be asked to exit the bus so automatic passenger counters at the doors can capture accurate ridership tallies. If you wish to continue your trip, you can get right back on!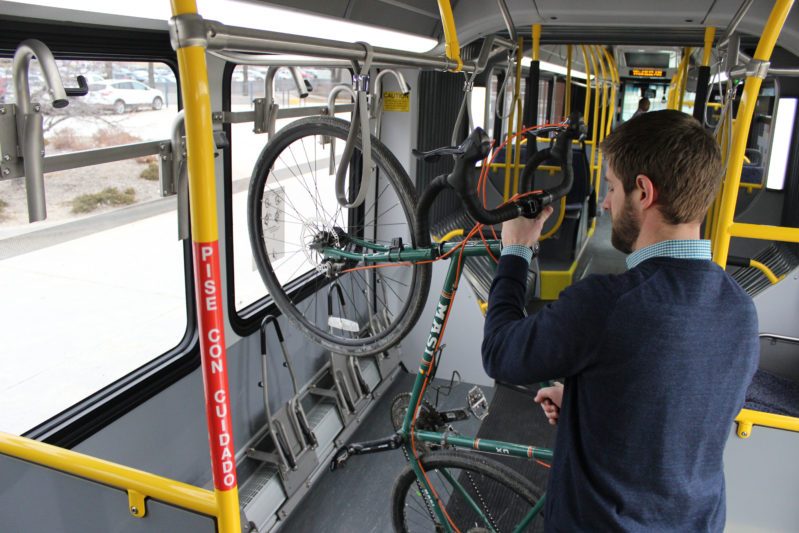 Bike & Ride
ORBT makes cycling easy — simply wheel your bike into a bike rack on board and you're off! ORBT bike racks accommodate up to six bikes and are available on a first-come, first-served basis. 
Cyclists should board at the rear door to use the onboard bike racks and exit through the same door.
Bike parking and Heartland B-cycle stations are also available at select ORBT stations, making it easier to get where you need to go.
How to Transfer Between Rapid Transit and Bus
FROM BUS TO ORBT
If you're transferring to ORBT from another Metro route and paying with Umo, the system will recognize your transfer – all you need to do is scan your app or tap your card! Otherwise, you will need to request a paper transfer card from your first bus and have it available for periodic fare inspection on ORBT.
FROM ORBT TO BUS
If you're transferring from ORBT to another Metro route, you'll need to pay a fare for your next bus. Please have your fare ready when you board.
Station Closures
ORBT buses only stop at designated ORBT stations or stops. If an ORBT station is closed, riders will be directed to an alternate stop by displays at stations and on MyRide OMA. As always, you can ask your driver or call Customer Service!
View alternate stop locations here
Hours of Operation
ORBT operates from 4:30 a.m. to 12:30 a.m. on weekdays, 5:00 a.m. to 12:00 a.m. on Saturdays, and 6:00 a.m. to 9:30 p.m. on Sundays. Loitering or trespassing is prohibited at ORBT Stations. Violators will be prosecuted.
All bikes left at ORBT Stations for more than 72 hours will be removed and stored for 30 days at Metro's administrative office located at 2222 Cuming Street. To claim a bike that has been removed, please call Customer Service at 402-341-0800. Metro is not responsible for lost, stolen, or damaged property.
Substitute Buses
Metro will occasionally use a regular bus in place of an ORBT bus as they go through maintenance and cleaning. It is our goal to minimize this as much as possible. These buses will operate as an ORBT bus, and all ORBT rules apply.