Bus lanes to be installed downtown as ORBT approaches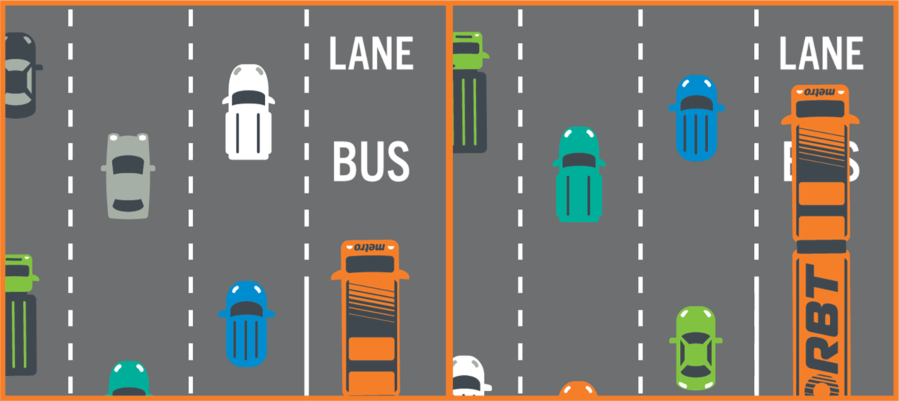 October 5, 2020
Omaha's first bus lanes will be installed downtown this week for Metro Transit's upcoming rapid transit line, ORBT.
"These bus lanes are one of many ORBT enhancements that will provide a faster and more reliable transit experience for our riders," said Metro's new CEO, Lauren Cencic. "They will help keep ORBT, Metro buses, and other traffic moving quickly and efficiently throughout the downtown area."
Located east of 30th along the right side of Dodge and Douglas Streets, the dedicated bus lanes will provide priority access for Metro Transit vehicles and will provide a clear path to ORBT stations. "Bus Only" lane striping will be installed over the coming weeks, followed by additional signage on traffic signals.
Right turns from the bus lane will be allowed for other traffic. Drivers and cyclists should:
 Signal their turns
Yield to buses
Check twice before entering the lane
Change lanes at the dashed line in the block before their turn
Those turning onto Dodge or Douglas should yield to buses and turn into the lane adjacent to the bus lane.
Bus lanes will replace a small portion of on-street parking. See how the bus lane affects parking, and check out all available public parking with Park Omaha's online map. Metro is asking for the community's cooperation in using proper lanes to ensure efficient transit service, reduce traffic delays, and keep Omaha moving.