Metro Transit celebrates 50 years of serving the community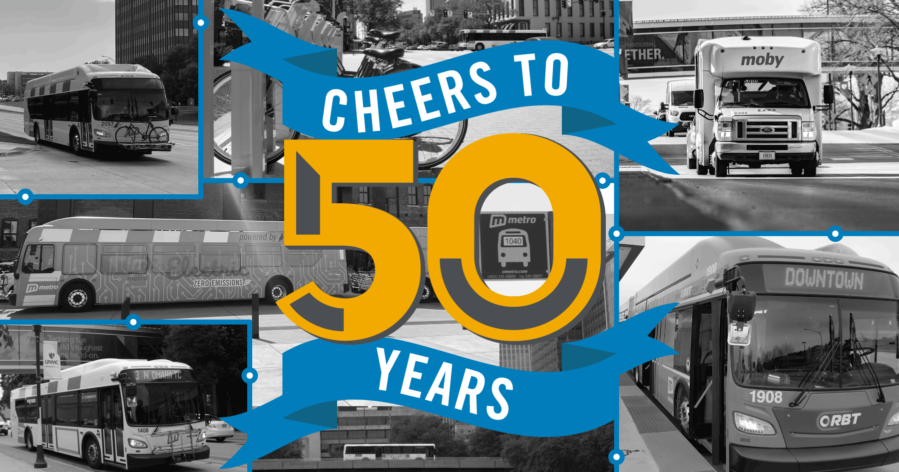 July 1, 2022
OMAHA, Neb. — Metro turned 50 years old today, marking five decades of commitment to connecting the Omaha community, and soon, the region. The agency's first day of service to the public was Saturday, July 1, 1972. 
The Transit Authority of the City of Omaha was formed after the passing of LB 1275 in the Nebraska State Legislature. The bill was introduced in response to the patchwork of privately owned and operated companies competing to serve Omaha that struggled to maintain ridership. Service was expanded to Bellevue in October 1972 and to Ralston, La Vista and Papillion in June 1974. 
"Omaha has a history of transit, from horse-drawn buggies in the 19th century to the region's first bus rapid transit line in 2020," said Metro Board Chair Amy Haase. "At Metro, we're proud to have been serving our community for 50 years, and we can't wait to see what the next 50 brings for us and the Omaha region." 
To celebrate its golden anniversary, Metro is offering fare-free rides on all Metro, MOBY, and ORBT vehicles all day on Friday, July 1.  
"As we celebrate 50 years of being Omaha's transportation provider, we want to express our appreciation for our riders." said Lauren Cencic, CEO of Metro. "Metro's passengers who use transit to get to work, school and their daily lives are the reason we are here to celebrate this important milestone in Metro's history." 
Metro will resume its normal fares Saturday, July 2. 
As part of its 50-year celebration, Metro is excited to announce, "Wheel Appeal," a contest for local students to design a bus wrap. The contest is open to middle and high school students who attended an Omaha-Council Bluffs metro area school or were home-schooled in the 2021-2022 school year. Designs can be hand-drawn or created digitally. All entries must be received by 4 p.m. on August 1, 2022. 
Two grand-prize winners will be selected: one middle schooler and one high schooler. Each winner's design will be used to wrap two Metro buses. For a complete list of rules, guidelines, and prizes, visit ometro.com/WheelAppeal. 
"We are thrilled to have this contest open to all middle and high school students in our community," said Cencic. "This is a great way for younger generations to get involved with public transit and understand the importance it has in everyone's lives."