Wheel Appeal: Design a Bus Wrap Art Contest
Wheel Appeal
Watch your art roll through town!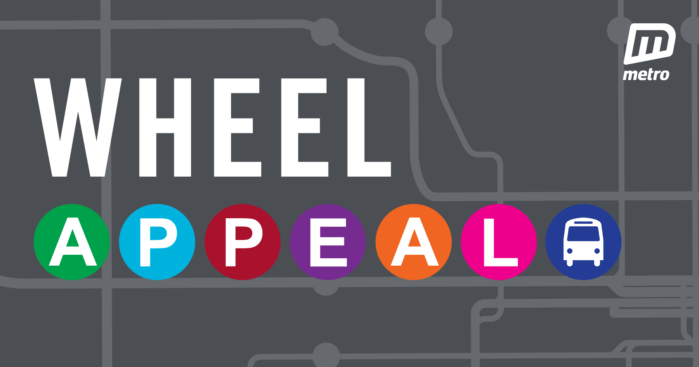 In honor of Metro's 50th anniversary, we're inviting Omaha-area students to send their artwork in for a chance to have it featured on an Omaha bus.
The contest is open to middle and high school students who attend an Omaha-Council Bluffs metro area middle or high school or were home-schooled in the 2021-2022 school year. Designs can be hand-drawn or created digitally.  Two grand-prize winners will be selected: one from the middle school group and one from the high school group. Those designs will go on a bus you'll see rolling through Omaha for up to a year!
"We are thrilled to have this contest open to all middle and high school students in our community," said Cencic. "This is a great way for younger generations to get involved with public transit and understand the importance it has in everyone's lives." 
Rules:
All entries must be original artwork produced by the Wheel Appeal Contest participant

.

 

 

Participation is open to all middle school and high school

s

tudents ages 11 to 18 years at the time of entry who attended Omaha/Council Bluffs area schools or home school during the 2021/2022 academic year.

 

All entries will be judged in two categories:  middle school students (ages 11-13), and high school students (ages 14-18).

 

Participants must provide their own art materials, and/or hardware and software.

 

Participants must submit original artwork and completed Wheel Appeal Contest Entry Form.

 

High school students graduating in May 2022, under the age 18, may still participate. 

 

If you completed middle school in May 2022, please enter as a middle school student 

L

 

All entries must be received by 4:00 p.m. on August 1, 2022

.

Entries may be emailed to:

outreach@ometro.com

or mailed/dropped off at Metro, Attn: Communications, 2222 Cuming Street, Omaha, NE 68102. 

 

If emailing, use subject line: Wheel Appeal Contest. No late entries will be accepted.

 

Entries will be judged by a committee made up of Metro staff and community members

in August

.

The winners will be

notified

by August 31, 2022.

 

Students are limited

to one entry per person

 
Technical Requirements for your design:
For hand-drawn original artwork:  
Download and use this template  
Use markers or ink pens 

 

Use white paper with a smooth finish so the design can be transferred to the wrap accurately  
For original digital artwork:  
Download and use this template  
Files can be made on either a PC or Apple platform (iPads are fine)  
If mailing or dropping off:

Save your files to thumb drive and include the following: 

 

Using Adobe Illustrator, save as an AI or EPS file. 

 

Any included images or photos need to be embedded.

All fonts in your design need to be converted to "outlines". 

 

In Adobe Illustrator, select all your fonts by clicking on text first  

then go to: Type > Create Outlines. 

 

Include a printed copy too. 

 

If using Procreate, save your file as a .PNG or .JPEG 

 
Participant's submission of the Wheel Appeal Contest Entry Form constitutes full and unconditional agreement to, and acceptance of the Wheel Appeal Contest Rules and Technical Requirements. Being chosen as the winners of the original artwork to be wrapped on a Metro bus Winning any prize is contingent upon participant fully complying with all Wheel Appeal Contest  Rules and Technical Requirements.  
By submitting original artwork and the Wheel Appeal Contest Entry Form, each participant fully represents and warrants to Metro and its successors and assigns that: (i) the artwork is original and created by the participant; and (ii) the artwork does not violate any copyright, other intellectual property right, other property right, or contract right.   
Necessary forms + files
Wheel Appeal Contest Entry Form