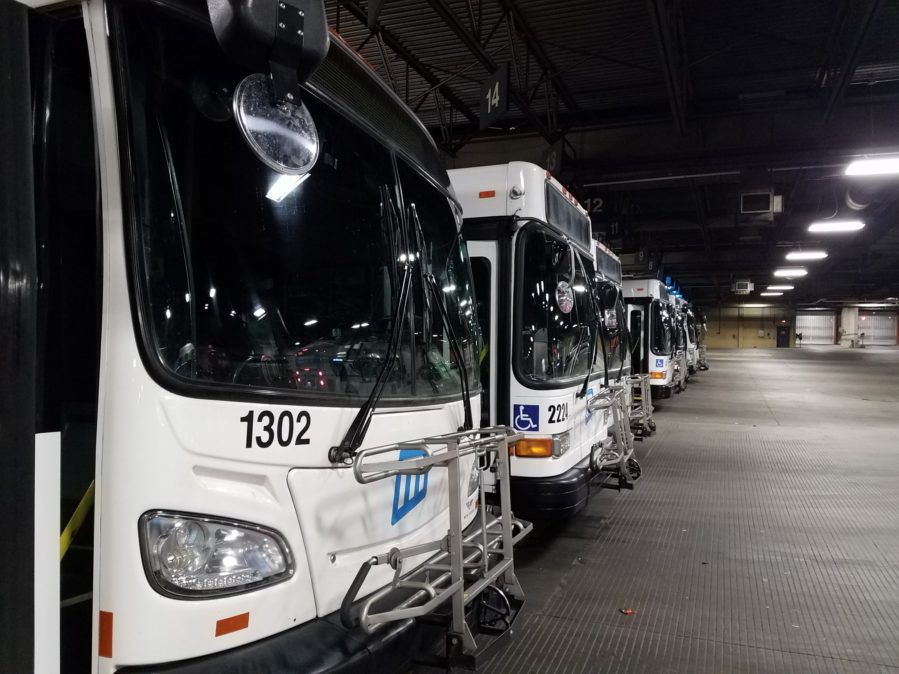 July 30, 2020
Metro Transit's Board of Directors announced Thursday its intention to hire Lauren Cencic as Metro's new Chief Executive Officer, replacing Executive Director Curt Simon, who is retiring after 33 years of service.
"Lauren possesses all the qualities we sought in a new leader," said Board Chair Jay Lund. "She is a visionary with transit industry experience across many disciplines. She brings the knowledge, passion, and leadership required to provide quality transit service every day, and we are confident in her ability to lead the agency as we continue advancing Metro's mission of connecting our community."
Cencic comes from the Los Angeles Metropolitan Transit Authority, where she leads various projects as a Senior Director, including:
Providing oversight and guidance for major light rail projects, including environmental planning and design of the Eastside Phase 2 Light Rail extension
Leading design criteria, environmental, and corridor studies for a variety of infrastructure projects, including the LA River Path project
Managing feasibility, environmental impact, design, and rail conversion studies for bus rapid transit projects, including the BRT Vision and Principles Study, the Vermont BRT, and the North San Fernando Valley BRT
Developing short- and long-term strategies, budgets, and policies; leading and supporting teams; and coordinating community and stakeholder engagement
"I am a firm believer that transit can have a profound impact on communities by enhancing mobility and providing access to opportunities," Cencic said. "The fundamentals are in place in Omaha, and the upcoming ORBT launch, potential for expansion to a regional transit authority, and community energy around transportation make this an especially critical time to step into this role."
Metro's Board of Directors began its search for a new chief executive in April, after Simon announced his retirement earlier this year. The Board enlisted a national search firm, Krauthamer & Associates, and a task force, chaired by Lund and Board Secretary-Treasurer Amy Haase, to help guide the search and make a final candidate recommendation to the Metro Board. The task force was composed of Metro staff, elected officials, community leaders, and representatives from the business and philanthropic communities, and included:
Denise Finken; Director of Finance; Metro Transit
Dennis Hogueison; President; Transport Worker Union Local 223, Metro Transit
Willie Barney; Founder, President, and Facilitator; Empowerment Network
Vicki Quaites-Ferris; Director of Operations; Empowerment Network
Tony Vargas; Senator, District 7; Nebraska Legislature
Chris Rodgers; County Commissioner, District 3; Douglas County Board of Commissioners
Kevin Andersen; Deputy Chief of Staff, Economic Development and Development Services; City of Omaha
Jeff Kutash; former Executive Director; Peter Kiewit Foundation
Brenda Dooley; Senior Vice President of Facilities; First National Bank
After a competitive national search that culminated in a highly qualified applicant pool, the task force unanimously recommended Cencic. Members of the Board of Directors then met with her individually. Thursday, the Board passed a resolution to offer Cencic the position, pending contract terms, making her Metro's first female chief executive.
"We interviewed many great candidates," said Haase. "Our community task force provided invaluable feedback, and it was clear to the task force and the board that Lauren is the right person for the job."
Simon, 67, has spent his entire working career in the transportation industry. He came to Metro in 1987 as Director of Operations and assumed the role of executive director in 2004. Metro saw significant changes under his tenure, including bus fleet upgrades, technology improvements, and the region's first rapid transit line, ORBT, which is set to launch this fall.
"The Board has made an excellent choice in selecting Lauren for this position," Simon said. "She absolutely has what it takes to take transit to a new level, and I believe the city is ready to take the next steps with her."
Prior to her work at LA Metro, Cencic served as the Special Projects Manager at Metro in Omaha. She was the first project manager for ORBT during its initial planning stages and regional transit vision study. She also led and supported service planning, contract administration, audits, equity, marketing, outreach, and grant management, which included the TIGER grant that funds ORBT. She earned a Masters of Public Administration from the University of Nebraska at Omaha and a Bachelor of Arts from Dickinson College.