Metro Transit sees ridership growth across network, record-breaking ridership on ORBT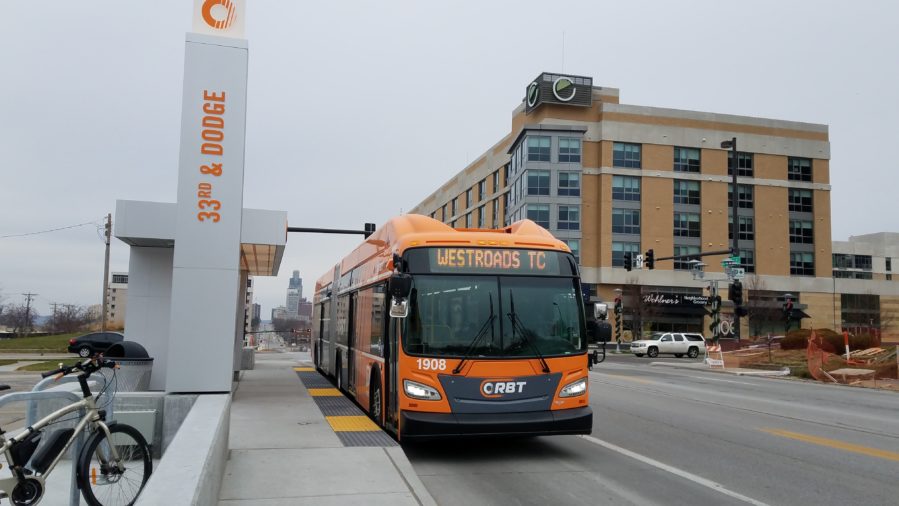 September 27, 2021
Metro Transit transported more passengers in August than it has in a single month since March of 2020, with a record-breaking average of 10,500 trips per week on its rapid transit line, ORBT.
"Use of ORBT has continued to grow since we launched last November," said Metro's CEO, Lauren Cencic. "In fact, this is the most transit activity we have seen on Dodge Street in at least two decades. This response to ORBT, especially during a global pandemic, demonstrates that our community is embracing high-quality transit."
Recent analyses show ORBT significantly outperforming Route 2 when comparing ridership from November 2019 through August 2020 to November 2020 through August 2021 (as shown in the chart above). Another analysis compared current activity on ORBT to activity on Route 2 in 2017, providing a pre-pandemic comparison of Dodge Street activity. The analysis showed significant growth in areas along the route, including nearly twice as many riders at the Westroads Transit Center, four times as many riders using stops near 84th & Dodge, 15% more riders on Saturdays, and 20% more riders on Sundays.
ORBT FARES
Rides on ORBT are free until Friday, October 1, when Metro will start utilizing its new Umo (pronounced "you-mo") contactless fare payment option. Umo was introduced to the public for use on bus and MOBY trips on Monday, September 20th.
"Rides on ORBT are currently free, which has played a role in its success," Cencic said. "That was by design – we wanted to show riders what this service can do. ORBT has provided a great lifeline for our community and nearly fifty thousand trips in August. That represents a serious reduction in congestion on Dodge Street."
Metro anticipates some fluctuation in ridership with the introduction of fares, but also expects new riders to keep riding due to the convenience of the Umo system. With Umo, riders can manage cloud-based accounts and board with a mobile app or smart card. The system also allows for automatic reloads with a low balance, automated transfers, and fare capping, which upgrades passengers to an unlimited ride pass once $55 is paid in a calendar month (or $27.50 for half-fare riders).
"Umo will help riders travel seamlessly to and from ORBT and provide them with connections to the rest of the system," Cencic said.
More information about contactless payment can be found at ometro.com/umo.
OVERALL RIDERSHIP & COVID
This August, Metro saw the highest ridership across all services since March 2020 as travel gets closer to pre-pandemic levels.
Current system-wide ridership is about 10% lower than March of 2020, gradually recovering from the sharp decline in travel that has persisted through the pandemic. Weekdays remain about 14% lower than March of 2020, but usage on weekends has grown through the pandemic, recording an 11% increase in riders on Saturdays and a 12% increase on Sundays, largely due to ORBT ridership.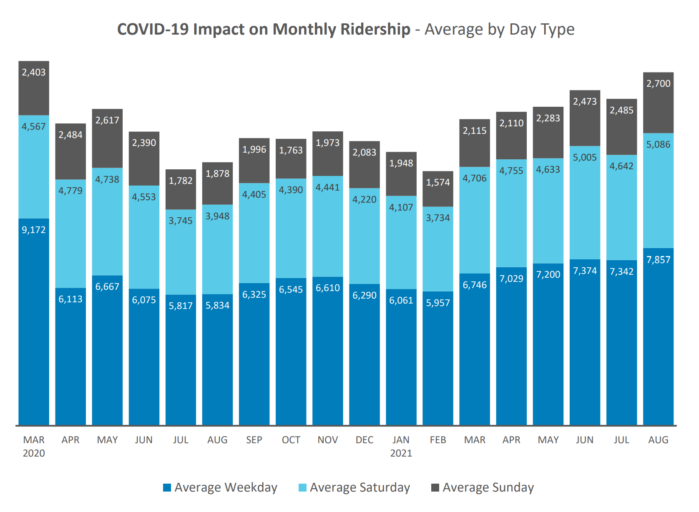 These numbers also indicate a substantial shift in local travel patterns and mark a trend that could continue into the future.  With many employers continuing to offer full- or part-time remote working arrangements, Metro has seen a decreased demand for traditional rush-hour services and increased usage during non-peak times throughout the week. Metro continues to monitor these changes in travel and identify ways to adapt the transit network to best meet the needs of our community.