Metro staff prepares for ORBT launch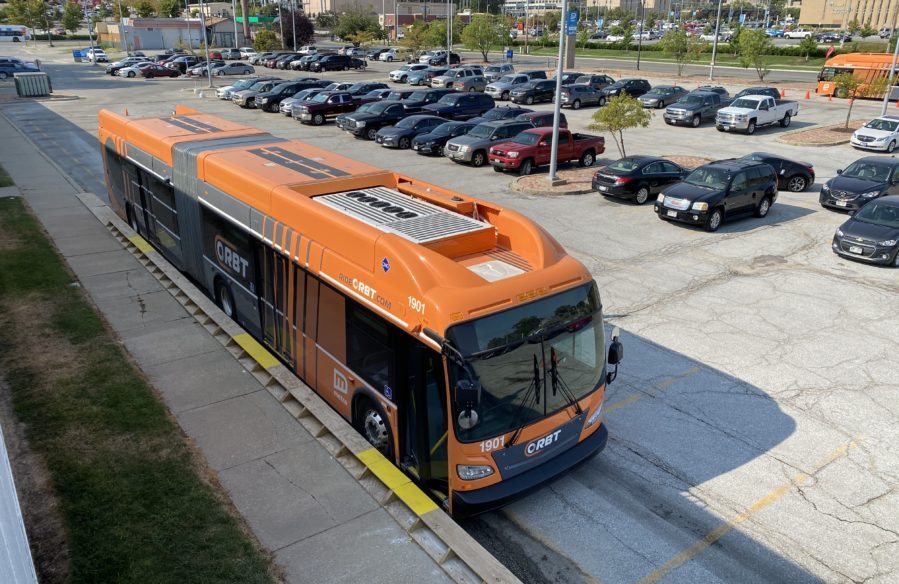 September 4, 2020
Metro staff continues to train for the launch of Omaha's first rapid transit service, ORBT, which is set to open later this fall. ORBT will feature upgraded stations and stops, more spacious buses, and roadway improvements for faster, more frequent public transit.
Operator training began late last year when ten 60-foot buses arrived from New Flyer Industries' Anniston, Ala. facility. After the buses got cleared for the road, staff conducted bus orientation with a focus on vehicle familiarity, basic driving, and winter weather handling.
"ORBT buses are longer and wider than our other buses with three doors and a flexible joint separating two cabins," said Metro Training Supervisor Tracy Wells. "It was imperative that our operators got a feel for how these articulated buses handled as early as possible."
Nighttime driving in the spring gave way to platform training in the summer. Training staff began using mock platforms that feature some of ORBT's most critical elements, including guide strips to keep buses within inches of the platform and boarding zones with visual and tactile indicators of where the doors will be.
While guide strips will help minimize the gap between a bus and a platform, a bridge plate will deploy at the middle door to eliminate the gap entirely.
ORBT stations feature raised platforms to provide a level boarding experience. Riders will be able to board through any of three doors, though Metro will encourage general boarding through the front door, wheelchair and stroller boarding through the middle door, and bicycle boarding through the rear door to access onboard bike racks.
"Our operators have really enjoyed driving these buses, and we're excited to offer a smooth and comfortable ride for our passengers," Wells said.
Metro's training staff has conducted periodic corridor trips along the ORBT route. Operators will begin training at ORBT stations once final infrastructure elements are installed, including station guide strips, a downtown bus lane, and an eastbound 84th Street queue jump.
Metro's mechanics have also been gearing up for ORBT with the introduction of a CNG-specific maintenance bay, an on-site fueling station, and ongoing training.
The added capacity of ORBT buses will also help riders maintain social distance. Metro's enhanced cleaning program will extend to the ORBT fleet, and includes:
Installing safety shields around driver seats to reduce contact between drivers and riders
Using an electrostatic sprayer which disperses a CDC-approved disinfectant across all interior surfaces
Continuing a rigorous daily cleaning schedule with an increased concentration of disinfectant
Continuing to work with the Douglas County Health Department to monitor COVID-19 and update cleaning procedures as warranted