Metro Transit awarded $1.6 million federal grant to study 24th Street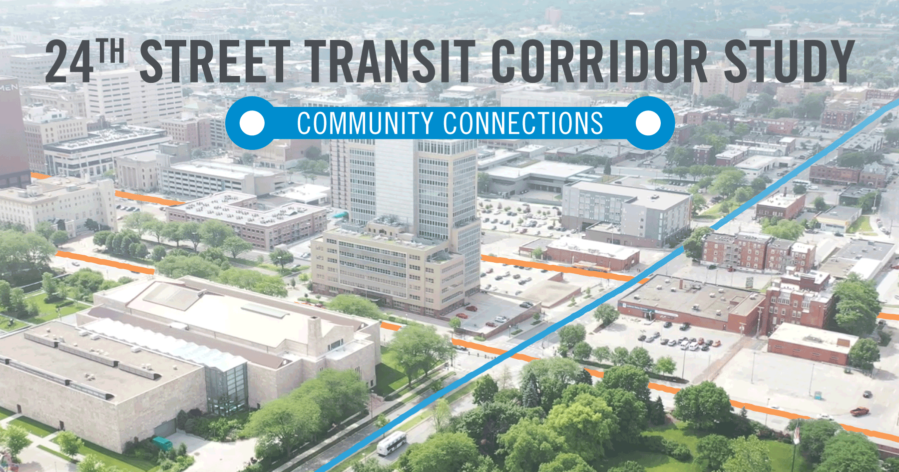 November 19, 2021
On Friday, Metro Transit announced it will receive a $1.6 million competitive federal RAISE grant to study the 24th Street corridor for potential transit enhancements.
"We're humbled and honored to be awarded such a selective grant and look forward to partnering with the community to identify transit improvements for North and South Omaha," said Lauren Cencic, Metro's CEO.
Several key partners supported the federal grant request with the U.S. Department of Transportation, including community leaders in North and South Omaha and local government representatives.
"High quality transit is critical for a growing city like Omaha," said Mayor Jean Stothert. "The RAISE grant will provide valuable information to help us expand transit options along 24th Street, improve connections to employment and education, and complement our investments in infrastructure and development. We are grateful to the U.S. Department of Transportation for supporting our 24th Street Transit Corridor Study."
RAISE – which stands for Rebuilding American Infrastructure with Sustainability and Equity – is a discretionary grant program to fund the planning and construction of the nation's most transformative transportation projects. Metro is the recipient of one of 90 extremely competitive grants, the requests for which outnumbered available funding ten to one. The RAISE grant program is the successor to the TIGER program, which funded the construction of ORBT on Dodge Street, the first rapid transit line in Omaha, launched in November 2020.
Metro anticipates beginning the study process by summer 2022, which will include extensive community engagement, stakeholder collaboration, roadway analysis, and evaluation of other potential upgrades. The study area includes 24th Street from Ames Avenue to Q Street, with consideration for alternatives on North 30th Street, as well as possible extensions to the north and south.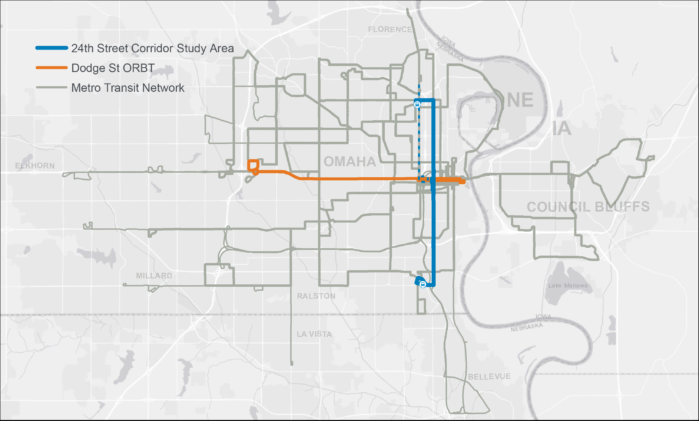 In July, Metro announced 24th Street as the next priority transit corridor for enhanced service or possible ORBT expansion. 24th Street was identified out of 15 potential corridors that were analyzed using factors including ridership, accessibility, and connectivity to the transit network. The technical evaluation process led to a top list for further study. At that point, Metro staff met with community and civic organizations, which resulted in 24th Street being selected.
The evaluation and eventual selection of the 24th Street corridor came out of Metro's community engagement and strategic planning initiative, MetroNEXT, which aims to prioritize regional service improvements to guide the agency for the next five to 10 years. Metro is planning virtual and in-person meetings after Thanksgiving to continue to shape the plan, set to be released for public review in 2022. More information can be found at ometro.com/MetroNEXT.
Identifying early funding for the 24th Street study shows quick progress on one of the top regional transportation strategies identified by ConnectGO, an initiative led by the Greater Omaha Chamber in partnership with Metro Smart Cities, Metropolitan Area Planning Agency (MAPA), and Metro Transit.
Stephen Osberg, the Chamber's Director of Transportation and Urban Development and the leader of its ConnectGO initiative, said their countless conversations with community members have confirmed the need for improved north-south connectivity. "We couldn't be happier with Metro's continuing efforts to enhance public transit along the 24th Street corridor. This project has the potential to dramatically increase access to jobs and education for people living along the corridor, significantly benefiting neighborhoods who have experienced long periods of disinvestment."
Among other leaders involved with the ConnectGO initiative is Mike Helgerson, Executive Director of MAPA, who sees the RAISE grant as an important step toward developing our region's transit system. "Enhancements to the 24th Street corridor will foster more equitable access to opportunity for neighborhoods along the route, and the project will improve the safety of the corridor for transit users like pedestrians and cyclists."
Cencic agrees that the transit study has the opportunity to address various issues such as access, safety, equity, economic development, and more.
"We're eager to work with the community and add to the momentum along 24th Street," she said.