Metro identifies 24th Street as next transit priority corridor

July 22, 2021
Metro Transit has identified 24th Street as the next transit priority corridor through its public engagement and strategic planning initiative, MetroNEXT. 24th Street was selected after analyzing 15 potential corridors for a variety of factors, including current bus ridership, people and jobs served, accessibility and pedestrian connections, connectivity to the existing transit network, equity and more.
"24th Street is a critical community connector, linking services, jobs, housing, recreation, education, and a multitude of other destinations," said Metro CEO, Lauren Cencic. "Enhancing service on this corridor is the next step toward more robust transit for the region, and we're excited to get to work."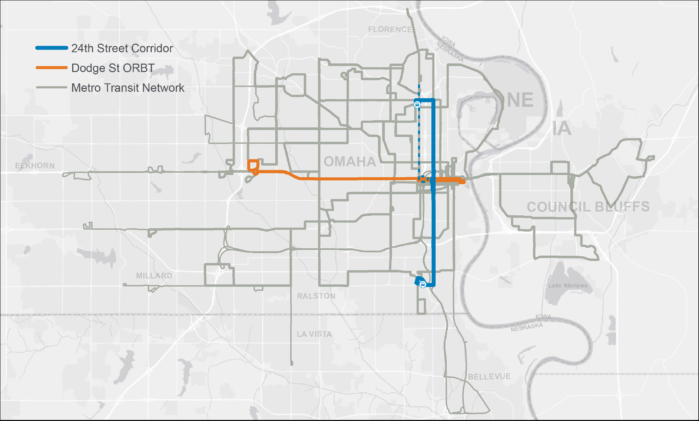 Metro's 24th Street corridor runs from the North Omaha Transit Center near 30th & Ames to the MCC South Transit Center near 30th & Q via 24th Street. It is currently served by Route 24, one of the highest-used bus routes in the Metro system. In addition to the two transit centers, the corridor connects 16 local bus routes, seven express routes, and the Dodge Street ORBT line.
Metro has begun seeking funding for a formal study of the 24th Street corridor to explore potential designs that could include an enhanced bus route, upgraded amenities, or a new ORBT line. The study area would also consider 30th Street as an alternative north of Dodge Street, with potential extensions at the north and south ends of the corridor.
A variety of additional transit improvements will be considered as MetroNEXT continues into the fall, including improvements to existing bus service, more frequent bus arrivals, upgrades to the fare payment system, better bus stops, clearer passenger information and new service types to connect the region. Community input will help shape the final MetroNEXT Plan, which will guide Metro for years to come.
MetroNEXT is being completed in coordination with regional partners including the Metropolitan Area Planning Agency, the City of Omaha, and the Greater Omaha Chamber and its ConnectGO initiative.
More details about the corridor evaluation & selection process can be found at ometro.com/MetroNEXT-Priority-Corridor.