Wheel Appeal contest winners honored, designs officially unveiled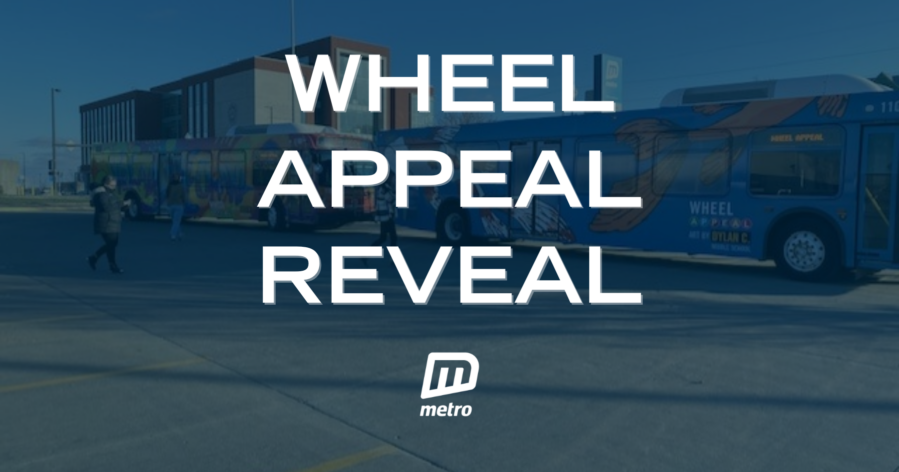 November 21, 2022
OMAHA, Neb. – Metro asked for students across the Omaha-Council Bluffs area to show us their best artwork – and they delivered. Now, people all over the metro area can see the winning designs roll through town.
The winning entry for the middle school category was submitted by Dylan Conrad from Gerald W. Kirn Middle School in Council Bluffs. Cecilia Urbanski of Marian High School in Omaha submitted the winning design in the high school category.
Dylan's artwork conveys a beautiful ecosystem with koi fish swimming serenely through their habitat. She designed this artwork to show how the transportation of the future will continue to take animals' habitats into consideration while continuing to connect to our community. Metro has made a commitment to sustainability with goals to improve our community and the environment we all call home.
"It's very surprising to see my art on a bus, but I'm really excited to be able to see it all over town," Dylan stated during the Wheel Appeal event on Friday, November 18.
Art is one of Dylan's biggest passions, but some of her other hobbies include baking with her two sisters, playing soccer with her friends, and going hunting with her brother. She also loves dogs and regularly goes on runs with her pups.
Cecilia says her design is centered around the very thing she believes makes people human – love.
"The Omaha metro area is a system that brings a community together and coming together is more important now than ever," said Urbanski. "In a world where people are quick to point out their differences and pit themselves against one another, love is the solution. As our transit adapts and evolves through the future, I hope our hearts do as well."
Cecilia's friends call her "Ceci," and she is in her senior year at Marian. She wears a number of hats there, serving as the managing editor for the literary magazine, co-president of the art club, and graphics editor of the school newspaper. She is also an avid thespian and enjoys participating in Marian's theater program.
Ceci has seven siblings and four pets. After she graduates, she aspires to attend college and study graphic design and communications.
"This is very exciting," Ceci said at the Wheel Appeal event. "I haven't seen my art shown in this magnitude before. I feel like I'm really taking a step into the community with it."
Both winners and their families attended the Wheel Appeal event. Metro CEO, Lauren Cencic, and Daniel Lawse, member of Metro's Board of Directors, gave short remarks before toasting the winners with sparkling apple cider. Cencic also signed commemorative copies of each winner's design for them to take home.
"For more than 50 years, no matter our name, Metro has served our community. In honor of this milestone anniversary, we wanted to celebrate our talented area students with an art contest: Wheel Appeal," said Cencic. "We are all in awe at the talent and passion these students put into their designs."
A committee made up of community members and Metro staff chose the winning designs.