Route 15 changes: Know before you go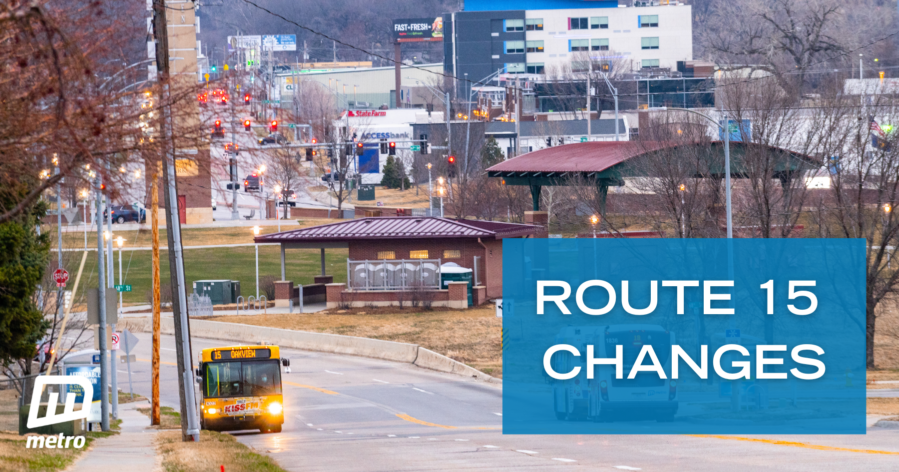 September 30, 2022
Metro is in the process of rolling out the initial phases of its exciting MetroNEXT plan, in an effort to better serve riders in the Omaha-Council Bluffs metro area.
Starting Sunday, October 2nd, 10 routes throughout Metro's service area will operate additional trips, more frequent service, or both.
One of the routes that will see numerous changes is Route 15, which runs from downtown Omaha to Oakview Mall. Beginning Sunday, October 2nd, Route 15 will run every 15 minutes during rush hour between downtown and the Aksarben Transit Center.
Things will look a little different for riders – both as the bus pulls up and when they are on board.
These are the new electric signs on the front of the bus for the 15:
Route 15 –  Aksarben TC
Route 15 – Oakview
Route 15/55 – Aksarben TC
Route 15 to Aksarben will enter Aksarben from a different direction than before. It will make a small clockwise loop around Aksarben before pulling up to the transit center.
The map below shows the changes the new Route 15 will take (Downtown to Aksarben and back) and how it's different from the Oakview and Millard routes.
Highlighted in blue, Route 15 Downtown to Aksarben loop will take its current route to 67th and Center, then continue on Center to the N. 72nd Street access road, turn left onto the access road, merge on to N. 72nd Street, staying in the right lane to Mercy Road, right on Mercy Road to pull up to the Aksarben Transit Center facing East. 
Highlighted in pink, Westbound Routes 15 Oakview & Route 15/55 Millard, will continue using the regular route into the Aksarben Transit Center: use 67th to Aksarben Drive, then pull into the Aksarben Transit Center facing West.