Metro to celebrate Nebraska Public Transit Week, honoring staff and community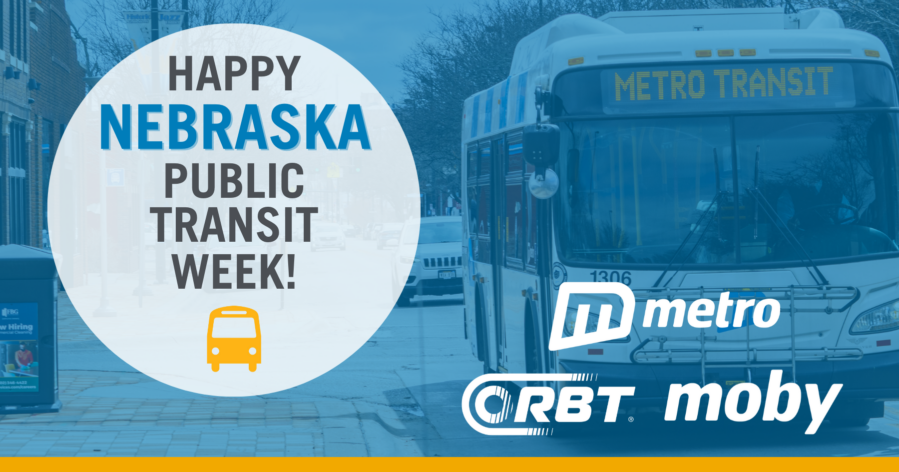 April 7, 2023
Metro will celebrate Nebraska Public Transit Week from April 9 – April 15, 2023, after Governor Jim Pillen signed a proclamation recognizing public transit throughout the state.
At Metro's Board of Directors meeting in March, board members unanimously reaffirmed the proclamation with a resolution thanking all Metro employees for the important roles they play in delivering transit services throughout the Omaha-Council Bluffs area.
"We would not be able to serve the community in this capacity were it not for the dedicated team of professionals at Metro," said Board Chair Amy Haase.
"We are excited to offer a variety of engaging activities for our riders and our staff," said Metro CEO Lauren Cencic. "We want everyone to feel valued and appreciated each day, not solely during Nebraska Public Transit Week."
Transit Week Activities
During Nebraska Public Transit Week, our riders and staff will be celebrated in a number of ways:
Randomly selected, system-wide free fare periods

These will occur twice a day, every day, for an hour at a time

Giveaways at transit centers throughout the week

Sunday, April 9, 1 – 2 p.m.: Westroads Transit Center
Tuesday, April 11, 10 – 11 a.m.: MCC South Transit Center
Thursday, April 13, 5:30 – 6:30 p.m.: Aksarben Transit Center
Friday, April 14, 11 a.m. – 1 p.m.: North Omaha Transit Center

Operations, Maintenance, and Rider Appreciation Days
Bike & Ride Day

Friday, April 14, 11 a.m. – 1 p.m., North Omaha Transit Center
Heartland Bike Share will be offering month-long passes for bike rides for those who finish a short survey

#SpotTheBus Contest

Spot the "UNO Welcome to our campus" bus (#1817) around town
Take a photo of the bus in-person OR screenshot it on the MyRide OMA app
Share it with us via email or tag us on social media and include #SpotTheBus in your post for a chance to win 10 ride tokens (includes 10 rides and 10 transfers)
Do you want to thank a staff member? Print out this thank you card and hand it to your driver!
Don't forget to check out Metro's Transit Activity Kit for kids!
Check out our gallery below for some of our favorite pictures from the week!