Metro welcomes aboard new and returning students with K-12 Rides Free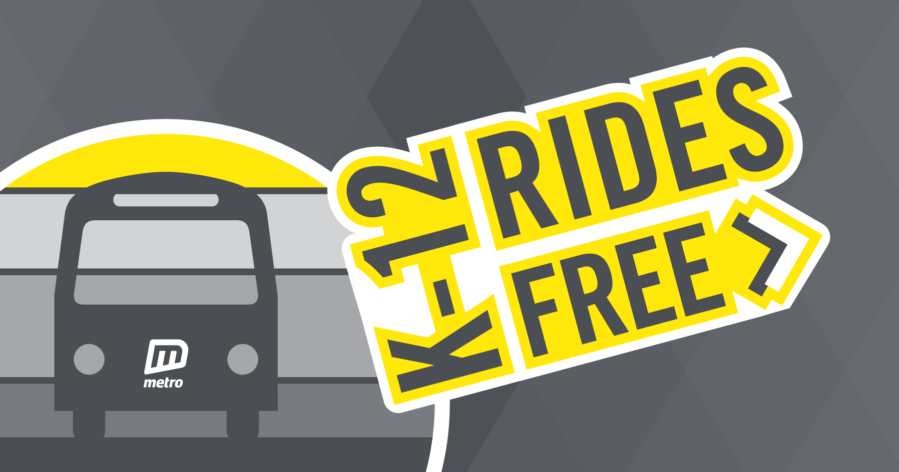 August 11, 2023
As the new school year begins, Metro's K-12 Rides Free program keeps rolling.
K-12 Rides Free allows all metro-area students — kindergarten through 12th grade — to ride any bus, ORBT, or MOBY fare-free anytime Metro provides service, on any route, and in any direction.
Since K-12 Rides Free began, the number of students using the bus has skyrocketed – Metro has provided nearly 600,000 student rides in just over two years.
Students riding the bus can learn the basics of riding the bus from our how to ride guide, available here.
When boarding, high school students need to show their school ID to the bus driver. Elementary and middle school students can just let the driver know they're a student.
Don't have an ID? Metro will provide a photo ID free of charge. In order to receive a Metro K-12 ID, students must bring proof of high school enrollment to the Metro office between 8:30 a.m. and 4 p.m., Monday though Friday. Students must be present to obtain their Metro K-12 photo ID.
Students or parents who want to try riding the bus can check out their options with Metro's trip planner at myride.ometro.com or by downloading the MyRide OMA app.
MyRide OMA – App Store | Google Play
Metro's list of routes and interactive route map can be found here.
Questions or comments about the K-12 Rides Free program? Call Customer Service at 402.341.088 (TDD 341.0807) or email k-12@ometro.com