Metro increasing service: Route 4 coming more often, more buses head to the airport, and more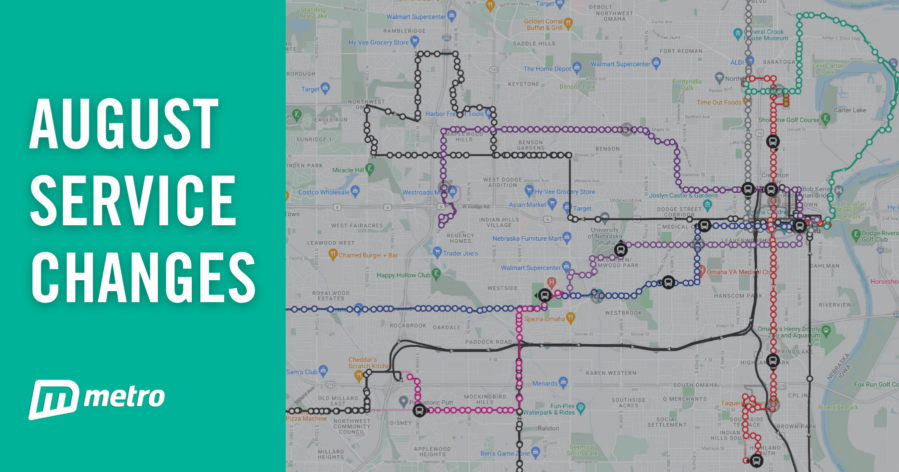 August 4, 2023
OMAHA, Neb. – Metro will make adjustments to several routes to better serve the needs of the community and improve service. Starting Sunday, August 13, 11 routes will either run more often, have more trips, or be adjusted in other ways to help Metro's system run smoother.
Route 4: Add 15-minute mid-day frequency on weekdays
Route 11: Weekday mid-day interline with Route 30*
Route 15/55: Add Route 15 evening trip from last eastbound Route 55
Route 16: Several trips added to weekday rush hour periods
Route 30: Weekday mid-day interline with Route 11*
Route 24: Slight schedule adjustments
Routes 93, 94, 97, and 98: Slight Downtown stop adjustments, routing change
*The August service changes include the addition of a weekday, midday interline with Routes 11 and 30. On an interline, one bus serves two routes. This helps keep things moving quickly for our riders, while allowing Metro to put as many buses as possible where they're needed most.
The interline will affect Routes 11 and 30:
Route 11 East will travel into downtown via Douglas to 10th Street, south to Farnam, and west to its final stop at 14th & Farnam NE [3341]. This bus will then depart as Route 30 West.
Route 30 South will travel into downtown via Harney to 13th Street, north to Douglas, east to 11th, and north to its final stop at 11th & Dodge SE [1227]. This bus will then depart as Route 11 West.
Riders on Route 24 will see slight adjustments to arrival times to allow the route to better stay on schedule.
Express Route Updates
Routes 93, 94, 97, and 98 will move to the same patterns in and out of downtown to improve consistency for riders. Two stops will close, to be replaced with two others. This will help address some safety and access concerns while serving a growing part of the downtown area.
On the AM routes, these stops will close:
13th & Douglas SW [ID: 1300]
28th & Douglas SE [ID: 1906]
Two new stops will be added to replace the closed stops:
12th& Capitol Ave NE [ID: 3686]
14th & Douglas SE [ID: 3685]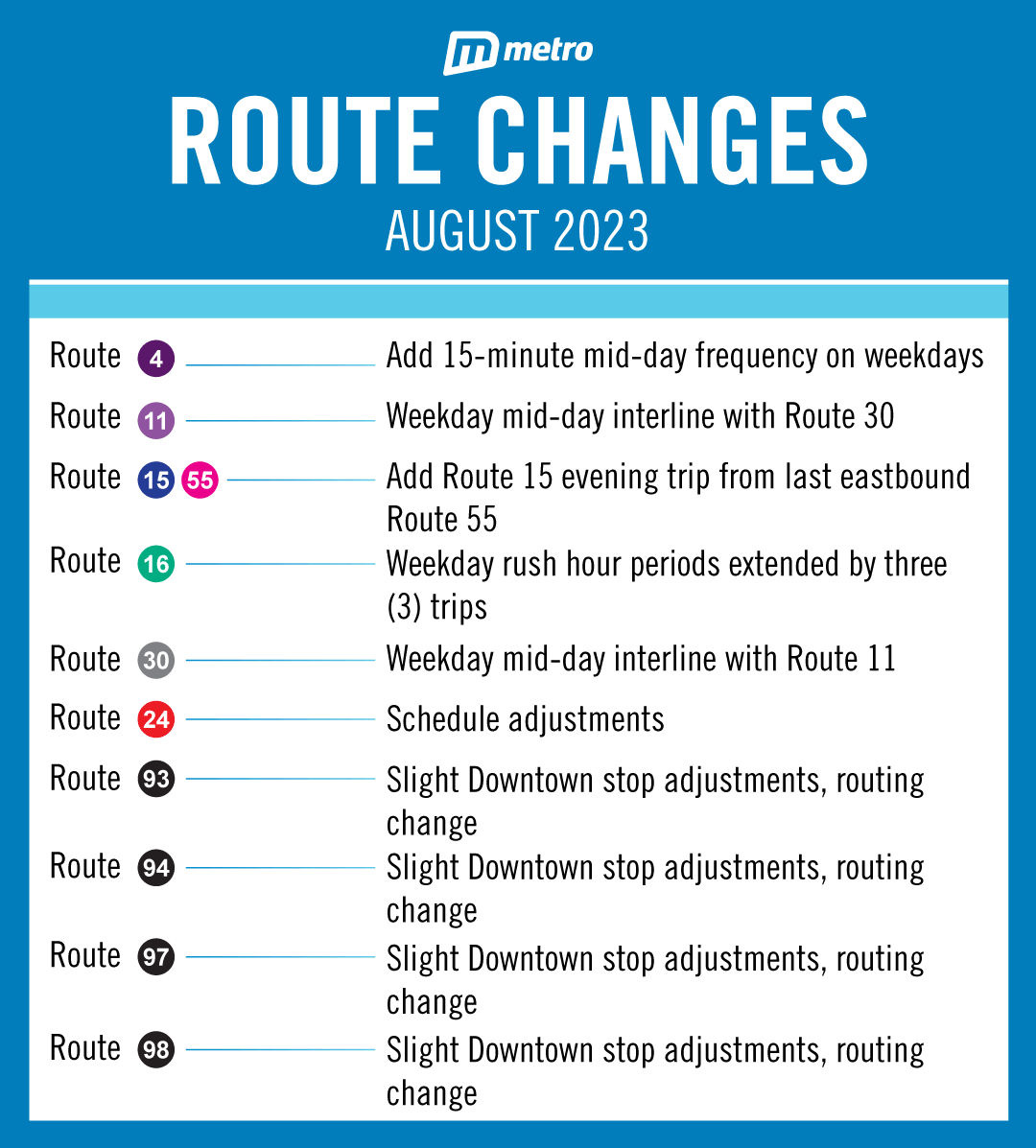 These changes are a key part of advancing Metro's long-term strategic plan, MetroNEXT. The updates are designed to increase efficiency and frequency across our service area.
The MetroNEXT plan, adopted by Metro's Board of Directors in April of 2022, is being used to guide transit investments and priorities to 2030 for the Omaha area. Built on extensive analysis and community input, the plan outlines major projects the agency is working to implement by 2030, including returning most routes to pre-COVID schedules; expanding evening and weekend service; and improving frequency on Metro's core routes.
Complete schedules will be available on Metro's website (www.ometro.com) and at Metro's office on August 10. More information about MetroNEXT and Metro's plan for the future of transit can be found at www.ometro.com/MetroNEXT.