Plan Your Trip
Plan your trip online using MyRideOMA or contact our Customer Service team for assistance in finding the best directions. Send us your travel plans using our online comment form or call us at 402-341-0800 or 402-341-0807 (TDD). You can also use Google Maps, Apple Maps, or Bing Maps. 
Individual schedules are available for each route in our system and include:
Boarding times, listed by travel direction and day at selected time points

A route map

Information on fares, holiday service, Customer Service information, reduced fare eligibility criteria, and more

Transfer points and the routes you can transfer to
Find our How to Ride videos in nine different languages on our YouTube channel.
Find Your Stop
Metro serves more than 2,100 bus stops around the Omaha metro area. They are identified with a blue Metro sign, and select locations feature shelters, benches, and trash cans. To find a stop near you, check out MyRide OMA or your preferred map application, or call Customer Service.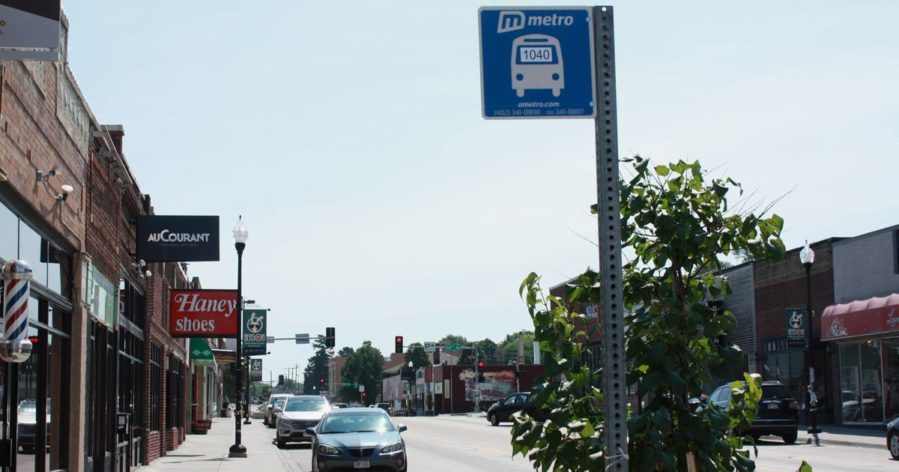 Check the bus stop sign for its four digit ID. This will come in handy in identifying your location for Customer Service or using MyRide OMA. 
It's best to arrive at the stop three to five minutes before the bus is scheduled to arrive.
Pro tip:
You can text your bus stop number to 531-200-7005 and get a response with upcoming arrival times. See more in our MyRide OMA Guide. 
Get On Board
Identifying Your Bus
The final destination and route number of each bus are displayed on digital signs located above the windshield and to the left of the front door. Some buses also have the route number on the rear. If the route number on the bus matches the number shown on your schedule or trip planner, hail your bus!
Hailing Your Bus
Stay by the bus sign and wave your arm to signal the bus driver. Questions? Ask the operator — they're happy to help!
Boarding
Please let seniors and individuals with disabilities board first to access priority seating located in the front of the bus. 

Let the driver know if you would like the bus to kneel or plan to load your bike onto a bike rack. 

If you use a Metro reduced fare ID, please have the ID ready to show the operator when you deposit your fare. 

If you wish to transfer, let the driver know when you board. 
Paying
Starting Sept. 20, 2021, you also have the contactless option to pay via the Umo app or smart card. The Umo QR code and smart card reader is located at the front of the bus.
With the app: Pull up your app's QR code from the Directions home screen or within the Wallet. Hold your phone up to the camera on the Umo reader. Place the QR code within the white brackets on the screen until the reader registers your fare.
With a smart card: Tap your card at the bottom half of the Umo reader. Umo smart card users will not swipe their cards at the card swipe option attached to the Umo reader.
Fareboxes accept U.S. currency, including all coins and bills up to $20, and Metro fare cards. The top of the farebox has three slots:
The lower slot accepts coins

The middle slot accepts dollar bills

The top slot accepts and activates fare cards and value cards. Passes, once activated, must be swiped in the magnetic swipe slot.
When paying with coins, please only insert one coin at a time. 
The farebox will provide value cards for additional amounts, which can be used as future fare credit or can be combined with additional cash to make up the difference in the required fare. Value cards are valid for 90 days after issuance and are not redeemable for cash. Operators are not allowed to make change or handle money.
Standing
In the event you must stand, please move behind the white line and as far to the rear of the bus as possible. This allows the operator to see the rear door and make room for additional passengers. 
Connecting to Wi-Fi
You can access Metro's free Wi-Fi by finding your bus or transit center in your device's Wi-Fi settings.
On buses, look for "Metro_Bus#" (ex. "Metro_1801")
At transit centers, look for "MetroNet"
Accept the terms of service to connect!
Bike & Ride
All buses and ORBT vehicles are equipped with racks for your bicycle — and your bike rides for free! Racks are available on a first-come, first-served basis and can accommodate wheel sizes of 16 inches or larger.
Only non-motorized, two-wheel bikes are allowed. The racks do not accommodate tandems, recumbent, mopeds, motorized bikes, Heartland B-Cycles or trailers of any kind. If a trailer can be folded to the size of a child's stroller, it can be brought on board.
Park & Ride
Park & Ride lots are a great way to save on gas, take the stress out of your commute and reduce your time behind the wheel — without giving up your car entirely. 
You'll find 15 convenient Metro Park & Ride lots — free of charge — around the Omaha area with connections to our Express bus routes and ORBT. Please be respectful of these lots, which are shared with the businesses that own or lease the property.
Simply park your car, head to your bus stop and get on board! 
Transferring
If you need to take multiple bus routes to reach your final destination, you'll have to purchase a transfer at the beginning of your ride. Hold onto your transfer card and deposit it in the farebox when you board your next bus.
Transfer Basics
A transfer card provides continuous travel in the same direction on as many as three buses. A transfer is valid for 90 minutes on weekdays and 120 minutes on weekends. 

The backside of the transfer will list issue date and time, bus and route number, and expiration information. 

Transfers are not good for round trips. 

Customers must transfer at the first point of contact with the route they want to transfer to and only at designated transfer points. Transfer points and connecting routes are listed on every schedule and route page.

In the case of a dispute, riders are required to pay the fare and notify the main administrative office at 402-341-0800.
Fraudulent Use: No person shall sell, trade, exchange, give away or offer for passage a transfer in violation of the rules of Metro.
How to Transfer
In order to transfer buses, ask your driver for a transfer at the beginning of your trip, pay the transfer fare of 25 cents, and take the transfer card issued by the farebox.
At Transit Centers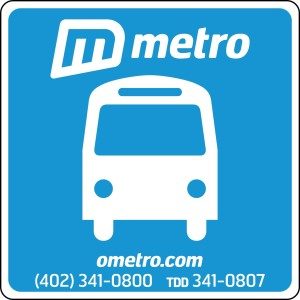 When transferring between two routes at a transit center, simply stand near the designated stop for the route you wish to board.
On-Street Stops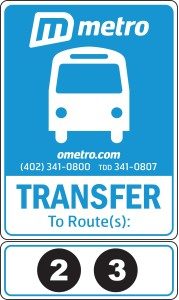 Where two or more routes intersect outside a transit center, the designated transfer point is identified by a transfer sign that features the routes you can transfer to at the bus stop.