ORBT Surpasses Half-Million Rides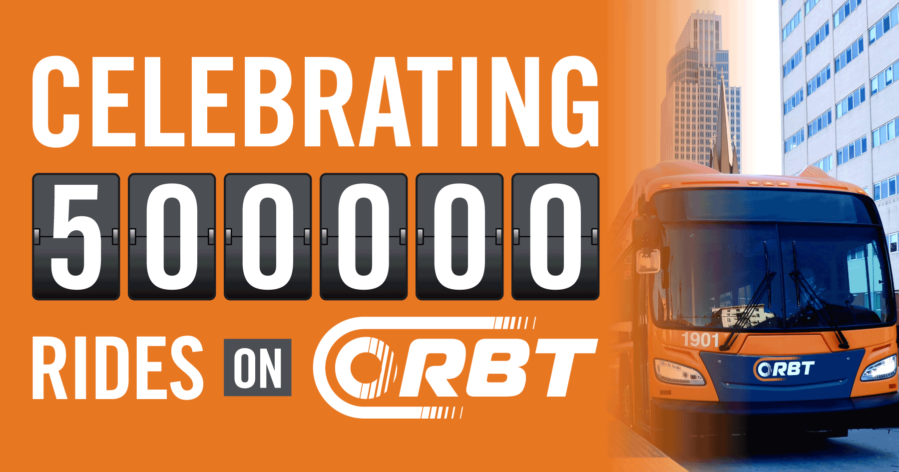 January 31, 2022
ORBT has a new stellar stat – Omaha's first rapid transit line has now provided more than half a million rides.
The line, which launched in November 2020, introduced new amenities for riders along eight miles of Dodge and Douglas Streets and enhanced connections between downtown and Westroads. The $37 million dollar project included enhanced stations with raised platforms, sixty-foot articulated buses, bus lanes, traffic signal priority, and technology at stations and on board.
With buses arriving every 10 minutes on weekdays, Metro has seen a significant increase in ridership along Dodge. Average weekly ORBT ridership for 2021 was 83% higher than the weekly average for Route 2 in 2020, with weekend ridership doubling over the same period.
"We've seen new travel patterns and ridership growth, indicating that our community is embracing high-quality transit," said Lauren Cencic, CEO of Metro Transit. "Launching this new service during a pandemic presented a unique challenge, and we remain committed to providing safe and reliable transit for new and existing riders."
Access to essential services is vital, and ridership on ORBT shows it – stations at 84th & Dodge near Children's & Methodist hospitals have attracted four times as many riders as the previous Route 2, providing critical access for medical workers and patients during the pandemic. Metro continues to take measures to limit the spread of COVID-19, including bus cabin air being refreshed every five to 14 minutes and requiring masks onboard for bus operators and passengers.
ORBT has brought more than just a new kind of ride along the main corridor of Omaha. As a result of ORBT, the City's Transit Oriented Development code has already resulted in new developments along the line, totaling $119 million. Four projects are underway, and three are in the approval process.
"ORBT has always been about much more than making the bus faster – we're looking to grow the community in a sustainable way while improving connections across the city," said Amy Haase, Chair of Metro's Board of Directors. "Our work isn't over – we're continuing to explore how to better connect our region."
Metro is preparing for the future of its service with its strategic planning initiative, MetroNEXT. Metro staff is developing improvement scenarios that will be presented to the public in the coming months. The selected scenario will identify short- and long-term improvements to better connect the region over the next five to ten years. More information about the initiative can be found at ometro.com/MetroNEXT.