Metro to provide free bus and paratransit rides on Election Day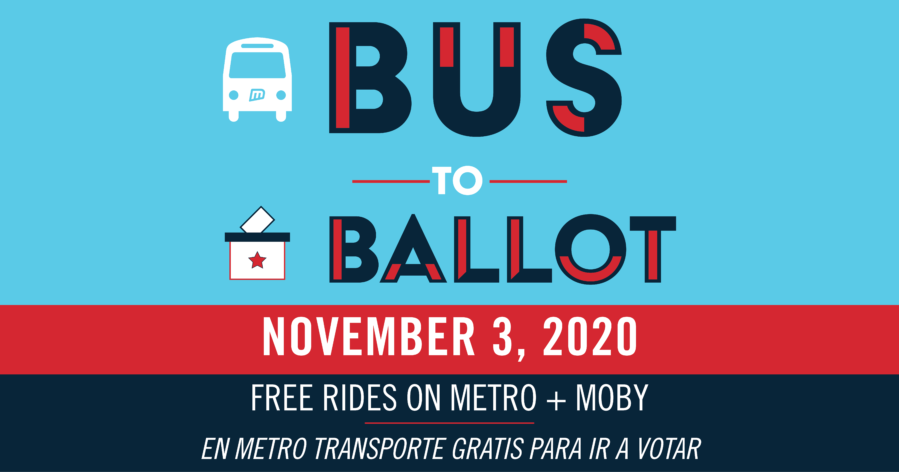 October 22, 2020
Metro Transit announced today that bus and MOBY paratransit services will be fare-free on November 3rd for Election Day.
"The Metro Board of Directors is committed to the mission of connecting the members of our community to the places they care about, and that includes polling locations," said Jay Lund, chair of Metro's Board.
This year marks Metro's second "Bus to Ballot" initiative, following free rides for the 2016 election.
"Providing free transit on Election Day helps us ensure that transportation is not a barrier to participation in the democratic process," said Metro's CEO, Lauren Cencic.
A map of Douglas County polling locations in relation to Metro routes can be found here. Riders can plan their trip and track their bus using MyRide OMA, which is available online and as a smartphone app.
Other Election Day transportation opportunities in the Omaha area include:
For more information on your polling place and voting information, please visit your respective Election Commission website:
To download our media kit, which includes posters, graphics, and more, click here.
In an ongoing effort to ensure that buses and paratransit vehicles are clean and safe, Metro continues to take measures to limit the spread of COVID-19, including:
Continuing a rigorous daily cleaning schedule with an increased concentration of disinfectant
Using an electrostatic sprayer on all buses and paratransit vehicles every evening, which disperses a CDC-approved disinfectant across all interior surfaces
Adding an anti-microbial coating during Metro's ongoing bus seat cleaning process
Trading out buses on high ridership routes mid-day for extra cleaning
Installing safety shields around driver seats to reduce contact between drivers and riders