Free Wi-Fi on Metro Transit Fleet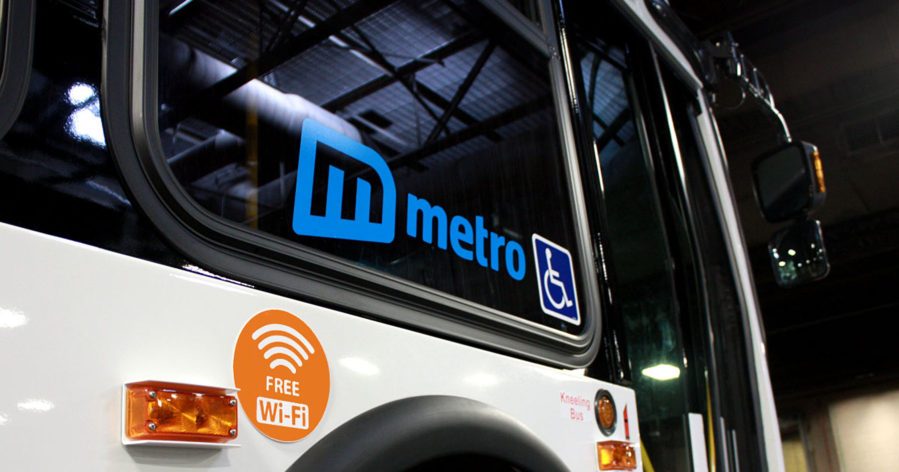 September 21, 2018
New buses aren't the only new thing coming to Metro. Free Wi-Fi will be available on Metro's buses and paratransit vans starting next week.
"One of the many benefits of riding transit is that riders do what they want with their time, whether that's talking to a neighbor, reading a book, or, now, connecting online," said Curt Simon, Metro's executive director. "Riders can let us do the driving and make the most of their travel."
Vehicles equipped with Wi-Fi will be identified with orange "Free Wi-Fi" stickers near the front doors. Metro will activate the vehicles in phases, with all vehicles offering Wi-Fi by early next year. To access, riders will find the Wi-Fi signal in their device's settings – stylized "Metro BusNumber" – and connect.
"At Metro, we connect people to the places that matter most to them," said Daniel Lawse, chair of Metro's board of directors. "Upgrading our technology is key to this connection, and Wi-Fi is an added benefit as we install hardware for GPS bus tracking and real time arrival information."
Wi-Fi connection accompanies a variety of improvements from Metro, including new paratransit vans, new buses, new bus shelters, GPS tracking that will provide real time bus arrival information, a CNG fueling station, and ORBT, Omaha's first rapid transit system.