2022 Nebraska Public Transit Week: April 17-23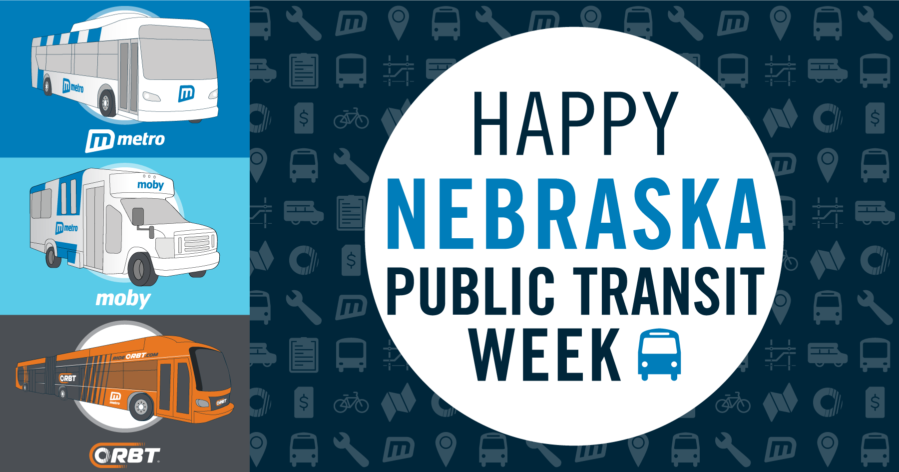 April 15, 2022
On Wednesday, February 2nd, Governor Pete Ricketts signed a proclamation declaring April 17 – 23, 2022 as Public Transit Week in the State of Nebraska.
At Metro's March Board of Directors meeting, the Board of Directors reaffirmed the proclamation with a resolution thanking all Metro employees for the important role they play in delivering transit services to the Omaha area.
Transit has served the cities of Omaha and Council Bluffs since 1867. Metro's fixed-route and paratransit services operated 3,294,715 miles and 241,212 hours in 2021, which helped connect people, places, and opportunities.
Transit Week Activities in Omaha
During the week, customers will be celebrated in a variety of ways, including:

Randomly selected, system-wide free fare periods

During these periods, ORBT customers will board through the front door only.
Passengers boarding with a bike may continue to board from the third door.

Giveaways at transit centers throughout the week

Monday, April 18, 8-10 a.m. – North Omaha Transit Center
Wednesday, April 20, 8-10 a.m. – Westroads Transit Center
Thursday, April 21, 12-2 p.m. – Metropolitan Community College South Transit Center
Friday, April 22, 1-3 p.m. – Aksarben Transit Center

Bike + Ride training for riders wanting to learn how to use the front bike racks on Metro buses

Tuesday, April 19, 12-1 p.m. – Metro Office parking lot

Earth Day Omaha

Saturday, April 23, 11 a.m.-5 p.m. – Elmwood Park
Staff will be out at Earth Day Omaha with Heartland Bike Share to talk about sustainable transportation in Omaha! This will include sharing information about the introduction of electric bikes and electric buses, Metro's newest fare payment services, and some transit prize giveaways!

Share your comments on Metro's draft MetroNEXT plan through Thursday, April 21st

MetroNEXT is Metro's yearlong strategic planning initiative to improve transit in the Omaha region. This plan addresses ways to guide transit investments and priorities to 2030.
Want to thank a staff member? Print out this thank you card for your driver!
Don't forget to check out Metro's Transit Activity Kit for kids!