Metro to Cancel Public Open House for ORBT & Route 2
March 13, 2020
After a comprehensive analysis of transit use along Dodge Street, Metro announced in late February that Route 2 will be replaced by ORBT when it launches later this year.
In early March, Metro hosted two public open houses to help community members navigate the changes. Due to rising concerns about COVID-19, we will be canceling the open house scheduled for Saturday, March 14 at Flagship Commons. Click here for more information about how Metro is responding to COVID-19.
Digital versions of the open house materials are available below. 
If you would like to be contacted about this change or have questions about ORBT, please:
Additional Service Options
Riders who are unable to access their nearest ORBT station may qualify for Metro's paratransit service, MOBY, which provides curb-to-curb service to destinations near public transit routes. Information about MOBY can be found here. MOBY boundaries will not change with this transition. Service hours will mirror the days and hours of ORBT.
Open House Materials
Board 1: ORBT Schedule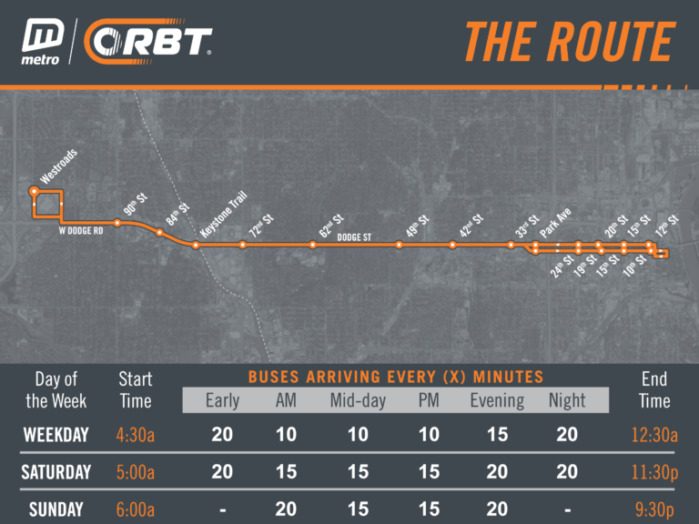 The replacement of Route 2 with ORBT will allow transit service to run more frequently, increasing daily round trips from 65 to 100 during the week. ORBT will operate on weekdays from about 4:30 a.m. to after midnight, with buses arriving every 10 minutes through the majority of the day. Saturday service will operate from 5:00 a.m. to 11:30 p.m., and Sunday service will operate from about 6:00 a.m. to 9:30 p.m. Weekend buses will arrive every 15 minutes through the majority of the day. Early morning and late-night trips will run every 20 minutes on all days of the week. Providing more frequent service on Dodge Street will give riders a new level of reliability and flexibility in their travel.
Board 2: Proximity to Stations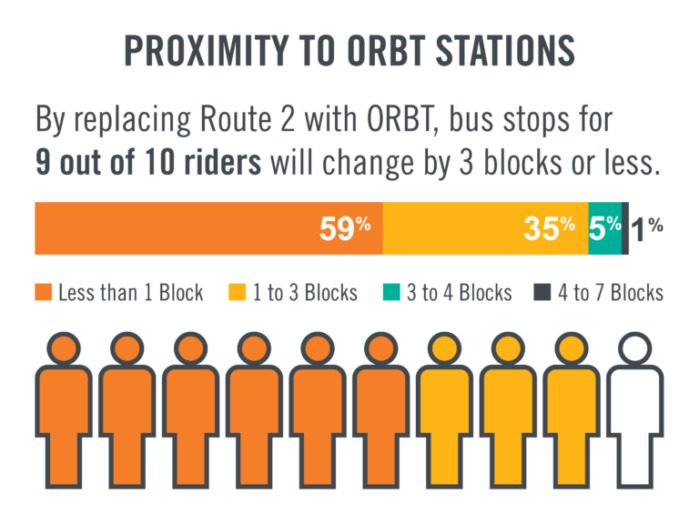 By replacing Route 2 with ORBT, bus stops for 9 out of 10 riders will change by 3 blocks or less. Metro has carefully reviewed ridership trends over multiple years to understand the impacts of this change. Our transition plan includes strategies to mitigate the impacts at the Route 2 stops that won't be near an ORBT station, and we want to work one-on-one with riders to address concerns about their trip.
Board 3: Westroads to 90th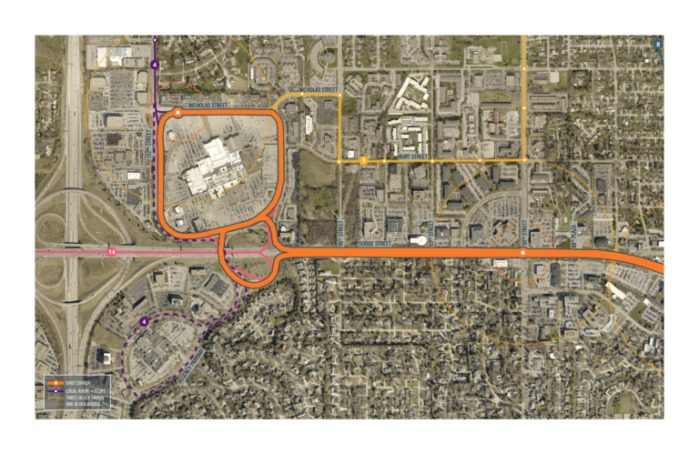 Route 4 will be extended from Westroads Mall to Regency, providing access to a stop near Whole Foods that will no longer be served by Route 2, while also expanding new service to the Regency Shopping Center.
Board 4: 84th to 72nd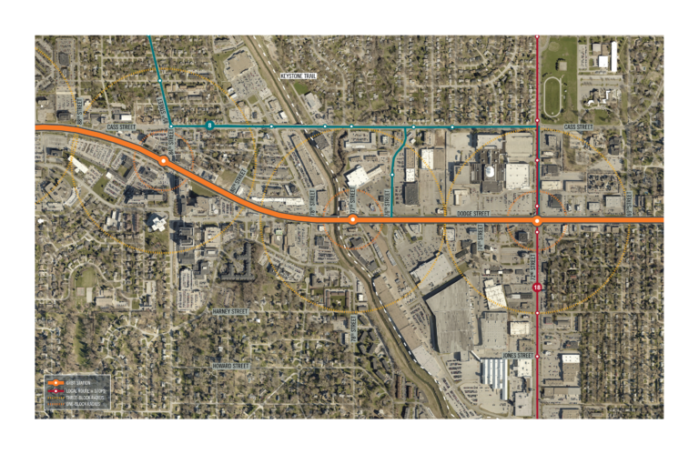 Stops between 72nd and 84th Streets have high levels of ridership due to businesses and residences in the area and proximity to the Keystone Trail. Metro will add a pair of ORBT stops at 77th & Dodge that will function as a connection to the Keystone Trail. While the stops will not initially feature many ORBT amenities due to cost and location in a flood plain, they will allow Metro to monitor usage and potentially invest in upgrades in the future.
Board 5: 62nd to 49th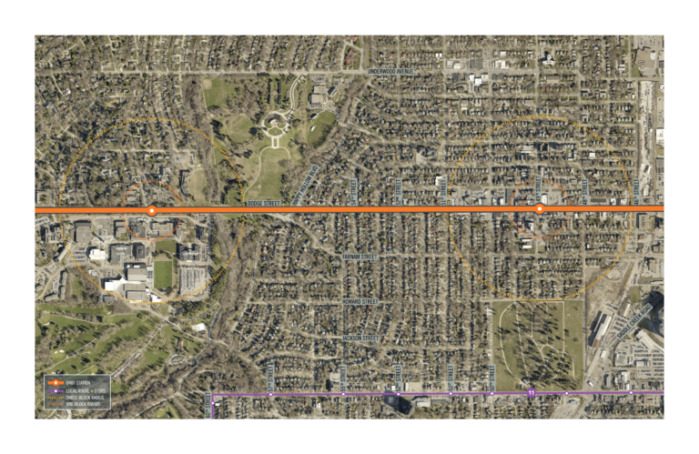 ORBT stations will be installed at 62nd Street (serving the UNO campus) and 49th Street (serving the Dundee neighborhood). This is the widest distance between stations along the ORBT line. Passenger counts indicate that bus stops at Happy Hollow, 54th, and 52nd Streets have a combined usage of about 12 passengers per weekday. Stops in closer proximity to the 49th Street station (from 51st to 46th Streets) have a combined usage of 129 passengers per weekday. Within this 3 block radius (¼ mile), industry research indicates that most passengers will gravitate naturally toward the stations at 49th Street.
Board 6: 42nd to Park Ave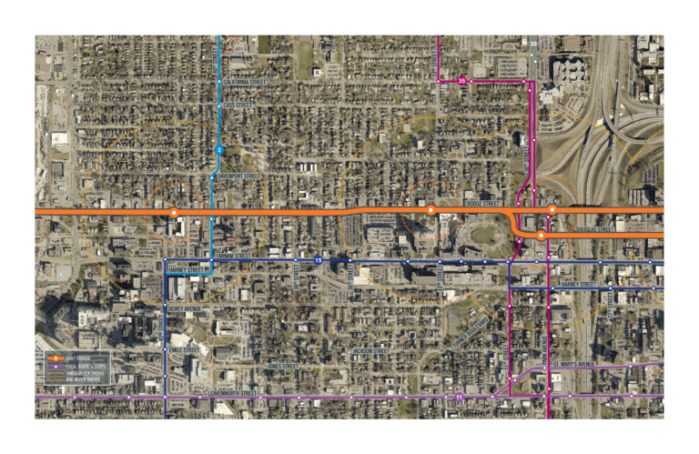 As the mid-way point between stations at 33rd and 42nd, bus stops at 38th Street are used due to their proximity to Gifford Park, The Blackstone District, and Midtown Crossing. Route 15 will continue to pick up and drop off about one block south at 38th & Farnam. Metro is evaluating possible bike amenities at this location to improve access to stops nearby.
Board 7: 24th to Downtown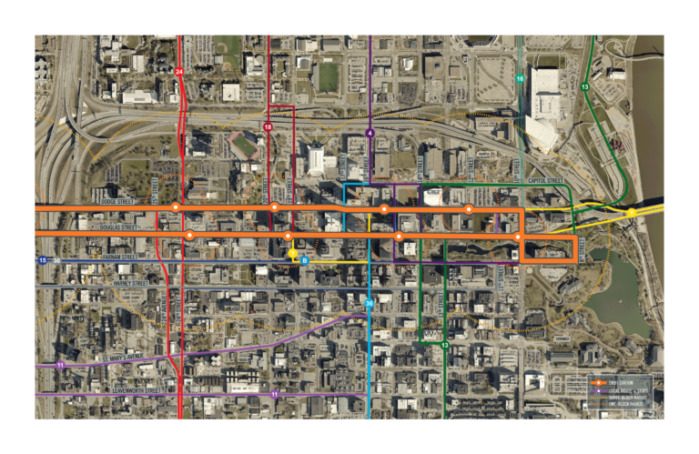 The majority of the downtown area will be less than three blocks from an ORBT station on either Dodge or Douglas streets. Many other bus routes intersect downtown as well, offering convenient connections for riders traveling beyond the ORBT corridor.