50 New Bus Shelters Coming to Omaha This Fall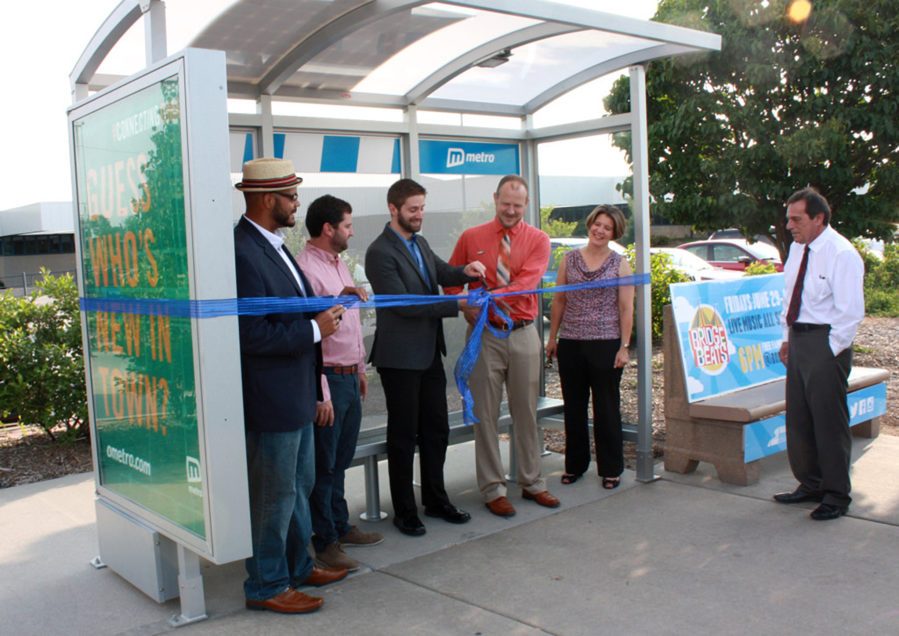 June 28, 2018
Metro officials unveiled the first of 50 new bus shelters to be installed around the city in the next few months.
"We look forward to improving accessibility, comfort, and convenience for our riders" said Curt Simon, Metro's Executive Director. "This project will enhance connections all around Omaha."
The shelters were manufactured by Brasco International and feature solar-powered lighting, bench seating, and passenger information. The back wall, made of perforated aluminum, will be durable and ensure visibility through the structure. Where space is available, bike racks will be installed to increase capacity for the growing number of riders that bike to bus stops.
Although some stops will not receive replacement shelters due to changes in passenger volume or street design, the majority of the existing structures will be replaced. About a dozen other stops will receive shelters for the first time.
New shelter locations will include Omaha's Henry Doorly Zoo & Aquarium, Salvation Army Kroc Center, Open Door Mission, Aksarben Village, and Seventy Five North neighborhood, among others.
"We are overjoyed to receive new bus shelters along North 30th Street," said Cydney Franklin, Senior Program Director with Seventy Five North.  "Having access to safe, covered shelters to await incoming buses will be an asset for this neighborhood. We appreciate our partnership with Metro Transit and look forward to making North 30th Street increasingly pedestrian friendly."
The bus shelter upgrades are one of several improvements coming to riders in the next year and a half, all designed to connect Omaha with a better travel experience.