Metro's First Natural Gas Bus Begins Operation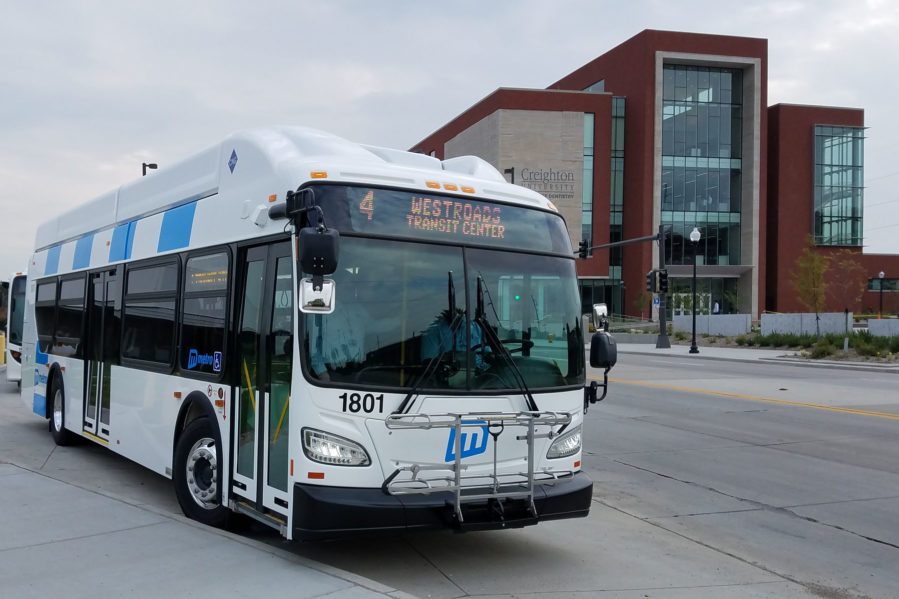 August 23, 2018
Metro's first compressed natural gas (CNG) bus went into service today.
Bus 1801 departed the Metro garage at 9:50 a.m. on Route 4, which connects downtown Omaha, Benson, and Westroads Mall. It is one of 14 new CNG buses that join Metro's fleet this fall to replace older diesel models.
The introduction of CNG marks a turning point toward more sustainable fueling options for the agency, which is seeking to diversify its fuel portfolio to reduce emissions, improve fuel efficiency, and better respond to market changes.
"We are looking at a variety of environmentally-responsible options as we transition our fleet away from traditional diesel," said Curt Simon, Metro's Executive Director. "This will guide us as we establish an infrastructure model that incorporates more sustainable options and seek funding opportunities for new ways to power transit in Omaha."
By replacing 14 diesel buses with CNG-powered models, Metro will reduce its emissions by 144,893 pounds of nitrous oxide, 455 pounds of atmospheric particulate matter, and 1,767 tons of carbon dioxide every year.1 The new buses will also improve fuel efficiency by about five percent, compared to the gasoline gallon equivalent.
"Adding CNG buses to the Metro fleet helps improve air quality in the Omaha metro area," said Metropolitan Area Planning Agency (MAPA) Executive Director Greg Youell. "MAPA's Little Steps Big Impact campaign works to make residents aware of the ground-level ozone problem in the metro area, and vehicle emissions are a key component. This step will not only allow Metro to add more sustainable fuel sources but it will help protect our region's air quality by reducing emissions."
All 14 buses, which are manufactured by New Flyer Industries, will be in service by the end of this year. All have low floors for accessible passenger boarding. Metro buses are circulated to all routes, so passengers can expect to ride new buses throughout the system.
A total of 38 new buses will replace one-third of Metro's fleet by early next year, resulting in a fleet of 88 clean diesel, 14 CNG, and 11 diesel buses; 14 gas and nine CNG Moby paratransit vans; and four hybrid Ford Fusion cars.
"This means a more sustainable environment for Omaha and more sustainable operations for Metro," Simon said.
1based on the GREET model from Argonne National Laboratory; https://greet.es.anl.gov/