February 27, 2020 – After a comprehensive analysis of transit use along Dodge Street, Metro announced today ORBT will replace Route 2 when it launches later this year, increasing daily round trips from 65 to 100 buses during the week. ORBT, which is Omaha's first rapid transit line, will offer more efficient travel as riders move between Westroads and downtown Omaha.
SERVICE CHANGES
When implementing major service changes, Metro evaluates impacts to communities through the lens of the Federal Transit Administration's Title VI regulation. Metro's analysis showed a net benefit to minority and low-income populations along Dodge.
"This evolution of transit on Dodge Street is a response to the changing needs of our community," said Metro Executive Director Curt Simon. "Although this transition may add distance for some riders accessing their nearest station, all riders will experience a more streamlined and rapid system overall."
Current Route 2 service on Dodge Street has as many as 12 stops per mile. ORBT will stop between two and four times per mile, reducing delays for riders onboard as well as other drivers on the road.
This transition will also allow ORBT to run more frequently, with service every 10 minutes on weekdays between approximately 7 a.m. and 7 p.m. A general schedule is shown in the table below: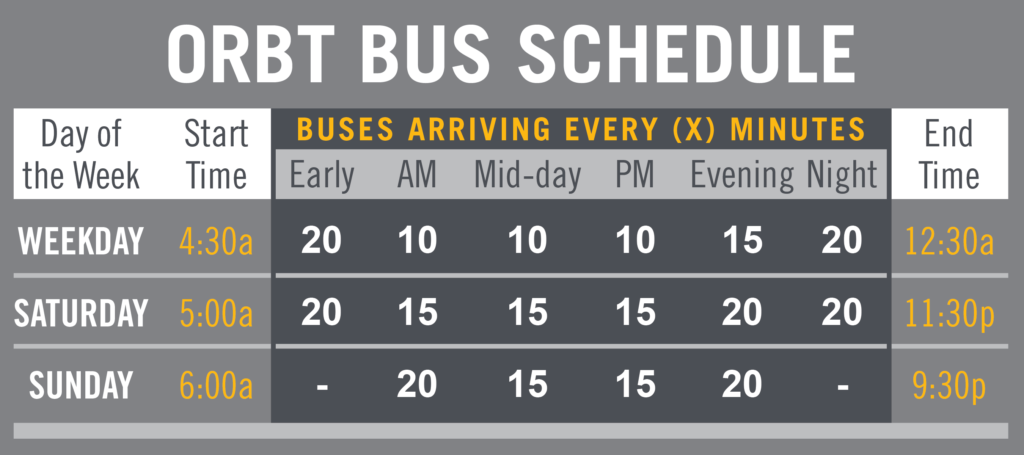 TRANSITION PLAN
"We've intentionally placed ORBT stations where ridership is highest, and over half of our riders board Route 2 less than a block away from a station," said Metro Transit Planner Evan Schweitz. "A small portion of riders, though, may have their nearest stop shift. That added distance may become a barrier, so we've identified solutions to help fill those gaps."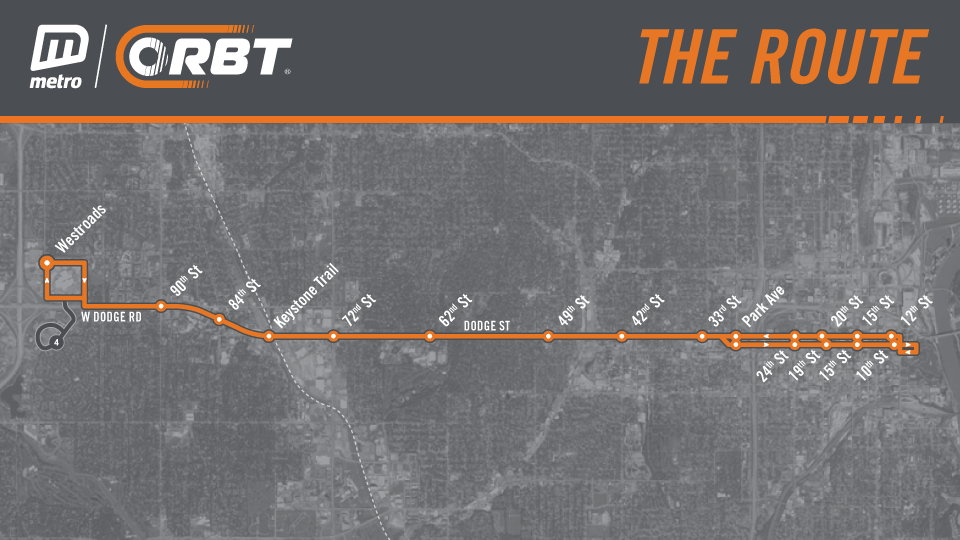 Affected locations and the efforts Metro is taking to minimize impacts include:
Regency Parkway
Route 4 will be extended from Westroads Mall to Regency, providing access to a stop near Whole Foods that will no longer be served by Route 2, while also expanding new service to the Regency Shopping Center.
77th & Dodge
Stops between 72nd and 84th Streets have high levels of ridership due to businesses and residences in the area and proximity to the Keystone Trail. Metro will add a pair of ORBT stops at 77th & Dodge that will function as a connection to the Keystone Trail. While the stops will not initially feature many ORBT amenities due to cost and location in a flood plain, they will allow Metro to monitor usage and potentially invest in upgrades in the future.
38th & Dodge
As the mid-way point between stations at 33rd and 42nd, these bus stops are used due to their proximity to Gifford Park, The Blackstone District, and Midtown Crossing. Route 15 will continue to pick up and drop off about one block south at 38th & Farnam. Metro is evaluating possible bike amenities at this location to improve access to stops nearby.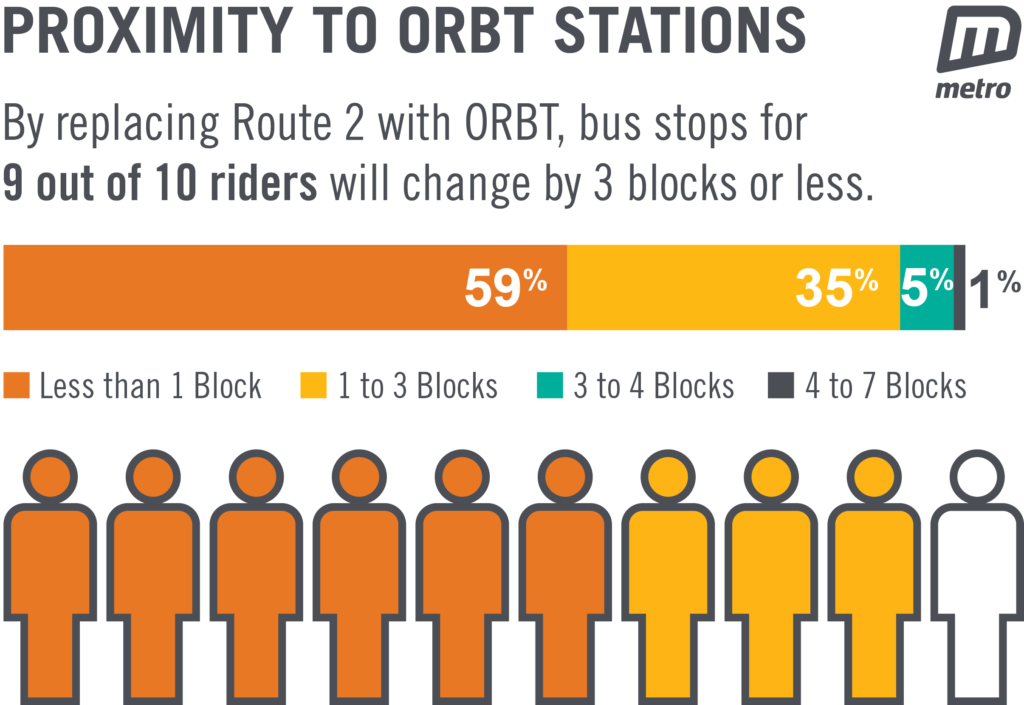 Riders who are unable to access their nearest ORBT station may qualify for Metro's paratransit service, MOBY, which provides curb-to-curb service to destinations near public transit routes. Information about MOBY can be found here. MOBY boundaries will not change with this transition. Service hours will mirror the days and hours of ORBT.
PUBLIC OPEN HOUSES
While Metro has worked to minimize negative impacts to riders, we acknowledge that some riders will experience an increased distance to their stop. Metro will be hosting public open houses during the second week of March to meet with riders face-to-face to explain the changes and help problem-solve with riders in impacted areas. All attendees will receive a bus pass.
Tuesday, March 10th – Nebraska State Office Building (1313 Farnam Street, Room 227)
11 a.m. – 12:30 p.m.
Access the meeting via routes: 4, 13, 15, 18, 30
Parking: On-street
Wednesday, March 11th – UNO Thompson Alumni Center – Centennial Room (6705 Dodge Street)
4:30 p.m. – 6:30 p.m.
Access the meeting via routes: 2, 92
Parking: UNO Lot X
*Due to COVID-19 concerns, the ORBT open house scheduled for Saturday, March 14 has been canceled.
Saturday, March 14th – Flagship Commons at Westroads Mall (10000 California Street)
10 a.m. – 11 a.m.
Access the meeting via routes: 2, 4, 5, 14
Parking: Westroads Mall parking lot
Spanish translation will be available at all open houses. Attendees with communication or accommodation needs such as interpreting services, auxiliary aids, or readers must call 402.341.7560 ext. 2300 at least two working days prior to an open house so appropriate arrangements can be made. To request foreign language translation other than Spanish, please call at least 72 hours prior to the open houses.
FEEDBACK
If you have any other feedback about Metro's services, you can fill out our customer service comment form. You can also call Metro's Customer Service department at 402.341.0800.