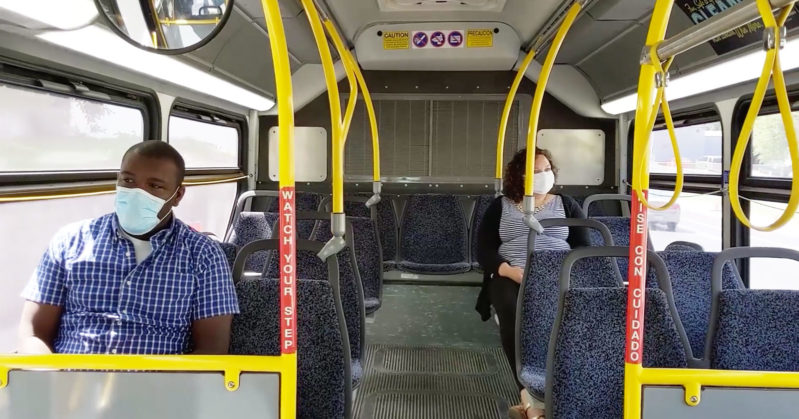 Metro continues to take measures to limit the spread of COVID-19.
Like partner transit agencies nationwide, Metro is closely monitoring the spread of COVID-19 and working with local health officials to ensure the health and safety of employees and riders.
Steps include:
Continuing a rigorous daily cleaning schedule with an increased concentration of disinfectant
Adding an anti-microbial coating during Metro's ongoing bus seat cleaning process
Using an electrostatic sprayer on all buses and paratransit vehicles every evening, which disperses a CDC-approved disinfectant across all interior surfaces
Requiring masks on all Metro buses and MOBY paratransit vehicles
Trading out buses on high-ridership routes during the day for extra cleaning
Installing safety shields around driver seats to reduce contact between drivers and riders
If riders have concerns about particular buses, they are urged to notify a Metro employee, contact Metro's customer service at (402)341-0800, or submit a comment through Metro's online form.
TIPS FOR RIDERS
Metro encourages riders, staff, and the public to follow the guidance of health officials. Nebraska Medicine has issued the following recommendations regarding prevention:
Wear a mask or face covering over your mouth and nose.
Wash your hands often with soap and warm water for at least 20 seconds, using hand sanitizer as a second option.
Don't touch your mouth, nose or eyes, especially with unwashed hands.
Avoid contact with people who are sick.
If you are sick, stay at home.
Cover your mouth and nose with a tissue or sleeve when coughing or sneezing. Don't cough or sneeze into your hands.
Frequently clean and disinfect frequently touched objects in your home, car and workplace.
MORE INFO
If you have questions or concerns about COVID-19, please contact local health authorities. For more information, please visit the following websites: