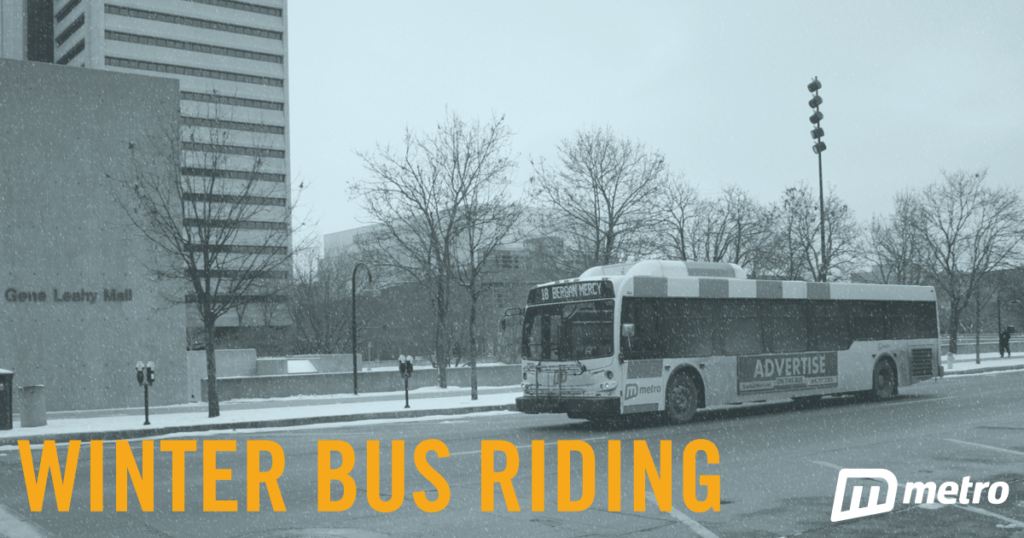 Plan ahead
Winter weather affects all traffic, including Metro buses. Safety is a primary concern for Metro's operators, so they try to take time on slick streets. Consider catching an earlier bus to give yourself more travel time.
Check our Weather Alerts page. Winter weather can change quickly, so always try to check for any warnings before you start your trip.
We're testing a real-time bus tracker – MyRide OMA – which can help you plan ahead. Check out our rider guide for more information.
Dress warmly
Dress in multiple layers of warm clothing. Winter road conditions may lead to slightly longer waits at the bus stop. Always try to wear gloves, a hat, and warm boots, just in case.
Consider your visibility
Mornings and evenings in the winter can be very dark – consider wearing reflective gear or light-colored clothing to help your operator see you. It can also be helpful to carry a flashlight.
Be safe
Give yourself extra time to get to the bus stop or transit center. With possibly slick roads and sidewalks, it may be necessary to be cautious.
When waiting for the bus, please be cautious of ice or snow. It is the responsibility of the adjacent property owner to clear the sidewalk. We ask all adjacent property owners to also help clear a path from the sidewalk to the curb so riders can board safely.
Take caution when boarding the bus. Please wait until the bus has come to a complete stop before trying to board. Snow and ice may make bus floors slippery, so please try to use the handrails when boarding the bus and finding your seat.
Bus Stop Clearing
Metro has more than 2,000 bus stops across Omaha, making it a challenge to keep all stops clear. Metro staff is responsible for clearing Transit Centers and Transit Shelters. Sidewalks are the responsibility of adjacent property owners/tenants, as stated in the Omaha Municipal Code. We ask them to also clear a path from the sidewalk to the curb so riders can board safely. To report uncleared sidewalks near your bus stop, call 402.444.5283.