Headed to the College World Series? We'll help you get there. Ride the downtown Stadium Circulator for just a quarter, or catch one of our standard routes that drop off within a few blocks of the stadium!
Stadium Circulator
This loop connects downtown parking garages with the Old Market and TD Ameritrade Park. Operating on a 10-minute frequency, these buses will run from two hours before the first game until two hours after the last game of each day.  For Opening Celebration Day on Friday, June 16th, the circulator will operate from 9:30 AM until 30 minutes after the conclusion of the fireworks display.
Cost: 25¢
Click here to download the Stadium Circulator map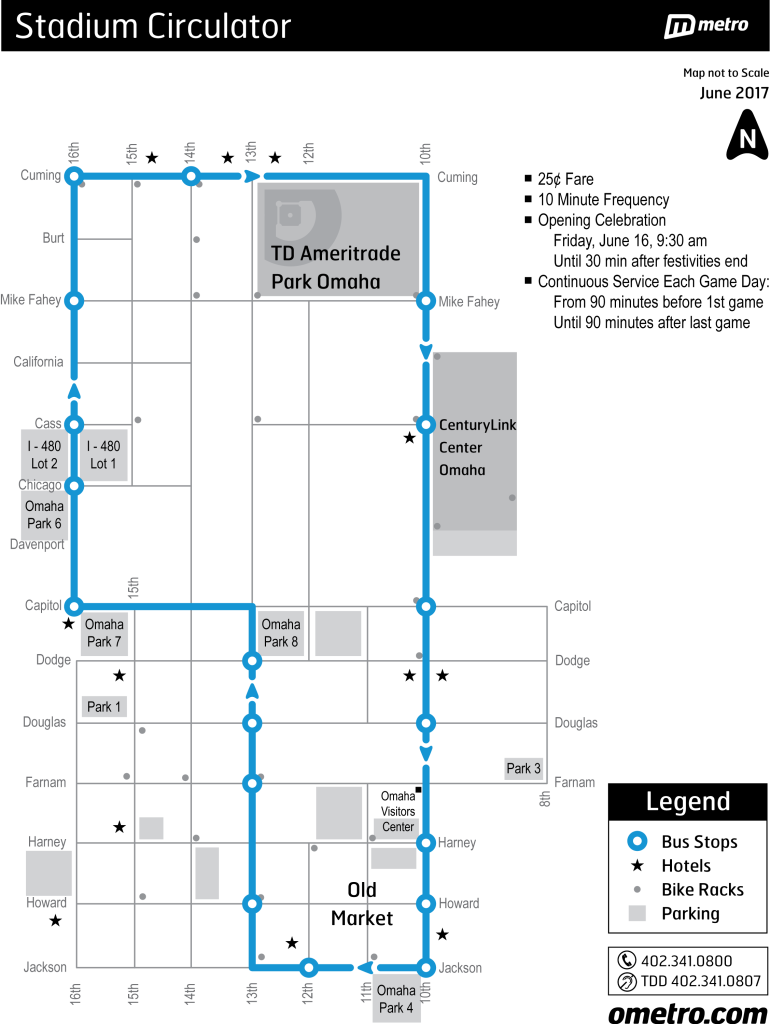 Stadium Express
No Stadium Express services will be operated during the 2017 series.
Demand at Stadium Express Park and Ride sites has decreased steadily since the 2011 relocation of the series to TD Ameritrade Park. The ridership comparison of 2015 to 2011 revealed a 70 percent decline (16,167 versus 4,803 respectively). The new ballpark's urban setting offers numerous attractors enticing fans to arrive early and stay late, causing them to pursue more flexible transportation options.  Stadium Express services have been discontinued since 2016.
Metro would like to thank the many loyal fans that have relied on our buses for all or part of the past 22 years of Stadium Express service. We hope you will find our other stadium services to be a convenient alternative, and we hope you enjoy the games!