Omaha is following the lead of countless cities around the world that have successfully implemented Bus Rapid Transit (BRT) projects to transport thousands of people every day. BRT utilizes many of the same streamlining features of a light rail system without the added cost of tracks in the ground. It can also be more easily expanded in the future through the creation of new lines or extensions. An investment of this magnitude in rapid transit infrastructure will be new and exciting for the Omaha community. Stations will be spaced farther apart and offer more amenities than conventional bus stops; traffic signal technology will prioritize transit vehicles at major intersections; and specialized vehicles departing every 10 minutes during rush hour will offer the highest level of transit service available in the region. Click each tab below to learn more about the project.
Project Overview
Omaha's first BRT line, located on Dodge Street and connecting major destinations from Westroads Mall to the Old Market, is scheduled to begin service in late 2018.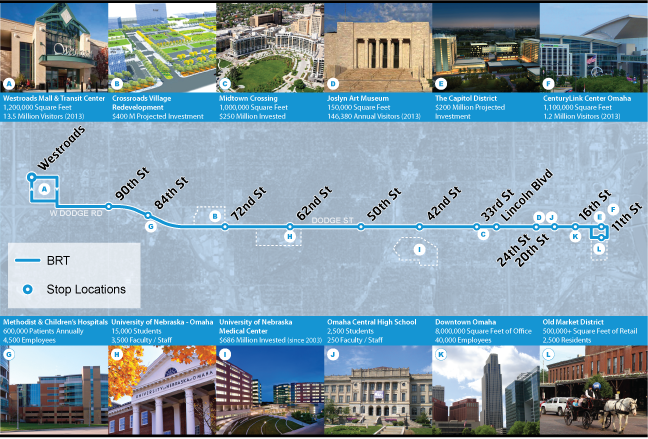 The BRT will have 25-27 stations along Dodge Street, as seen in the map above.
BRT will run every 10 minutes during peak hours, every 15 minutes during off-peak periods, and every 20 minutes during the evenings.
Why Dodge Street?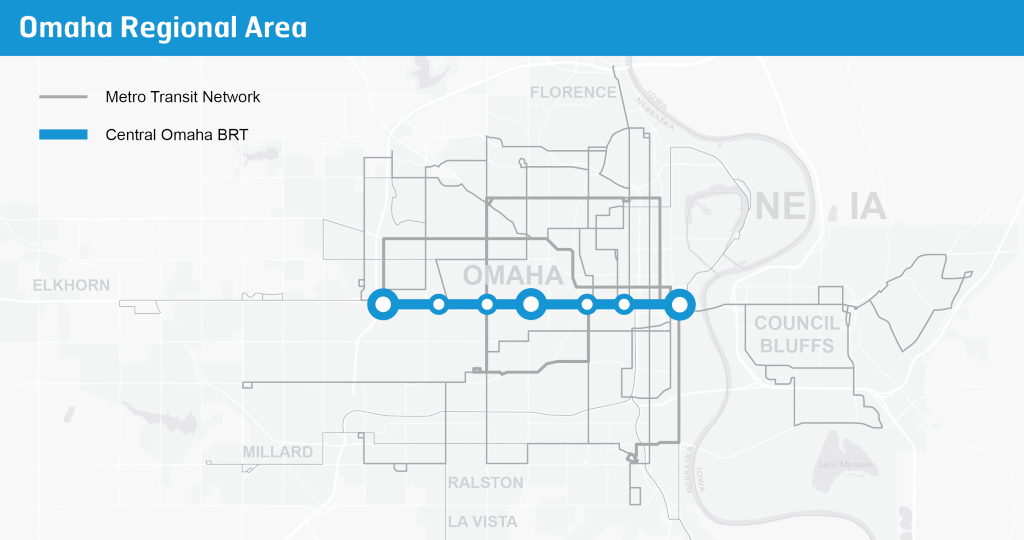 The Dodge Street BRT will serve as the spine of the regional transit network, intersecting almost every other bus line in the system and providing faster travel across the entire city.
It was identified as the highest priority transit project out of a future regional network of possible BRT and rail investments.
The BRT not only links major medical, educational, and employment destinations in one direct, high frequency alignment, but also serves an area targeted for dense redevelopment.
Improvements
Traffic is expected to grow on Dodge Street and we're out of room to widen the street. Bus Rapid Transit will help move more people within the existing space.
Where Dodge Street is one way, there will be a lane reserved for only buses in the opposite direction.
Contraflow lane – The eastbound BRT will operate in a transit-only contraflow lane, opposite the direction of the surrounding lanes, on Dodge between 31st Street and 10th Street.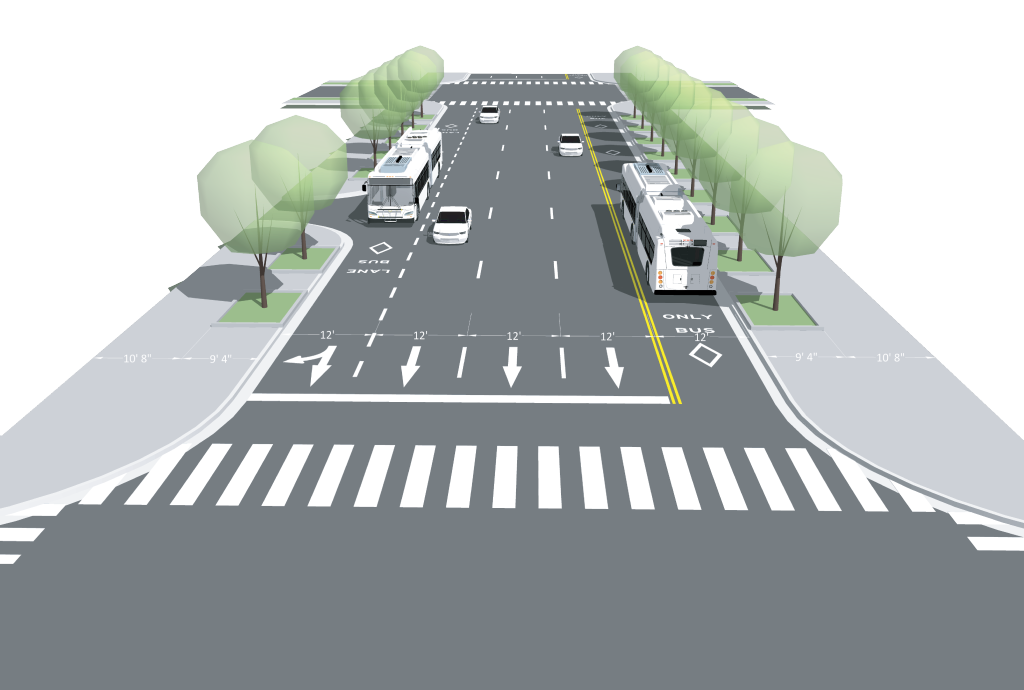 Business Access and Transit (BAT) lane – A semi-exclusive transit lane shared with right-turning vehicles is planned for westbound Dodge between 13th Street and I-480.
Transit Signal Priority (TSP) – Technology at numerous intersections will allow traffic signals to stay green longer when buses approach.
Queue jump – The BRT may have designated lanes with a bus-only signal to allow for the BRT to jump ahead of cars at 90th and 72nd streets.
Station Amenities

Near-level boarding – BRT station platforms will be designed to be the same height as the bus floor to reduce boarding and alighting delays.
Real Time Arrival Signs – Signs at each station will display the arrival time of the next BRT vehicle based on its GPS location.
Pre-payment of fares – BRT stations will be equipped with ticket vending machines, and we will also accept smart cards and mobile phone payments, enabling BRT passengers to board through any door.
Free Wi-fi – Wi-fi at each station will keep you connected while you wait.
Bicycle Amenities – Bike parking will be available at stations, or you can bring your bike onboard!
On August 13, 2015, Metro held a public open house to provide an update on the BRT project and to reveal three preliminary station design concepts. You can see the materials from the open house here.
Public feedback has refined initial station concepts to prioritize weather protection and an architectural style that complements the surrounding neighborhood. Future opportunities for input will further influence the final look and feel of the stations.
Vehicles
Specialized, 60 foot BRT vehicles will stand out from other buses and offer amenities similar to rail vehicles, such as entering from multiple doors and allowing bikes onboard. The vehicles will run on alternative fuel, which will reduce impacts on the environment.

On Wednesday, June 15th, Metro hosted two open houses which featured project updates and discussions about the configuration of the BRT vehicles. If you missed the meeting, make sure to take a look at the materials that were presented.
Metro gathered feedback from a variety of sites at the open houses, including display boards, online surveys, paper surveys, and informative conversations. This feedback revealed the desire for a BRT system that is reliable, convenient, rapid, and user-friendly. The most popular features concerned navigation and convenience, and included next-stop mapping, onboard maps, high-tech payment options, and easy-clean seats. Participants much preferred wider aisles and more space over increased seating, many indicating a desire for a "community" feel to the space. Those using mobility assistance devices overwhelmingly preferred rear-facing seats, which allow for independent boarding and departure in addition to signage encouraging responsible use of handicapped seating. Bicyclists preferred either vertical or angled onboard bike racks, which allowed for better use of space. There was encouragement to fit many bikes on board, with some indicating desire to leave a bike at a station – thus, bike racks at stops was another common preference. Additionally, the community expressed interest in future route expansions; station durability, cleanliness, safety, and protection from the elements; and the use of apps or technology, including automatic vehicle location, mobile payments, and wifi on board or at stations. This insight will be used as Metro moves forward with the design process.
Project Support
This project is possible, in large part, due to a highly competitive USDOT federal TIGER grant for $15 million dollars that will go toward the $30.5 million dollar project. Metro has also committed funds to this project and has received generous philanthropic grants from the organizations below.  Click here for Metro's 2014 TIGER grant application.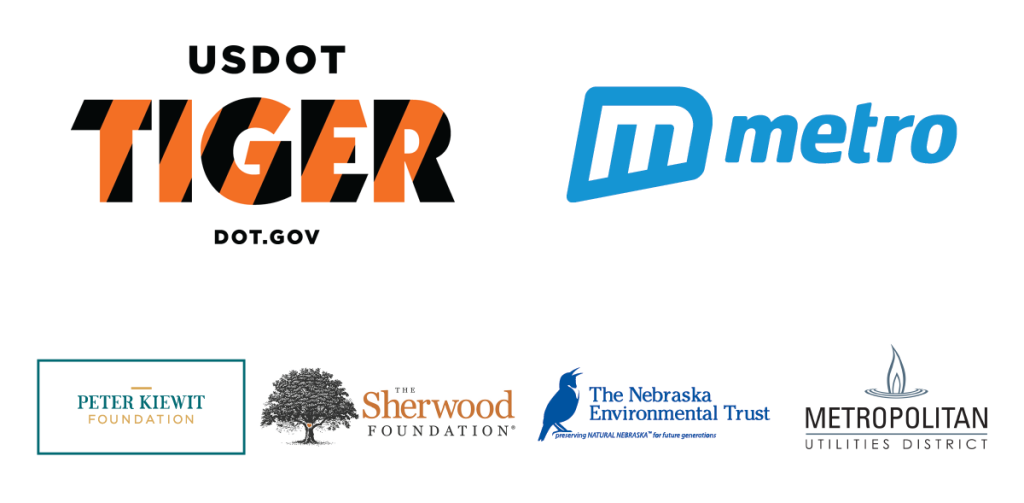 BRT has also been made possible due in-kind contributions from the Metropolitan Area Planning Agency, the City of Omaha, Live Well Omaha, and Heartland B-Cycle. The project has also been supported by a Stakeholder Committee, which is made up of representatives from a variety of fields in the Omaha area.
Project Benefits
Mobility
Cultivate transit usage with 2,740 daily passengers on opening day and continued increases in ridership
Mitigate congestion and associated costs
Increase capacity of roadway network within existing right-of-way constraints
Significantly reduce travel time for existing transit users at a value of $37 million over 20 years
Improve pedestrian and bicycle access and remove existing physical barriers
Improve management of parking supply and demand
Reduce vehicular crashes at a value of $11.7 million over 20 years
Responsible Growth
Create vibrant, livable communities to live, work and play
Promote infill and mixed-use development
Attract 1,350 new residents to the corridor
Generate $450 million in new development that would not occur without the project
Reduce personal vehicle mileage
Quality of Life
Improve air quality through significant reductions in emissions at a value of $2.4 million over 20 years
Reduce water damage from roadway runoff at a value of nearly $1 million over 20 years
Bolster physical activity, public health, and alternatives to a car-dependent lifestyle
Cultivate and reinvent public spaces with 25 upscale rail-like stations
Elevate public perceptions of transit in the community
Social Equity
Expand access to employment and educational opportunities
Improve transportation options for the 16% of households within 1/4 mile of the corridor that do not have access to a car. The benefit to these transit dependent populations is valued at $6 million over 20 years
Enhance opportunities for upward mobility through improved access and travel time
Corporate
Create 1,200 new long-term jobs that would not occur without the project
Increase property values along the corridor (shown to be as high as 25%)
Attract and retain talented workforce, particularly millennials who are increasingly choosing a car-free lifestyle
Increase retail sales and foot traffic
Reduce demand for parking and maximize land value. Land not used for parking can be utilized for development and expansion.
Save money on parking maintenance and construction. A local parking study found that the construction of one garage parking stall costs an average of $20 thousand.